Q. Edward Wang, Ph.D.
Q. Edward Wang, Ph.D.
Q. Edward Wang, Ph.D.

Professor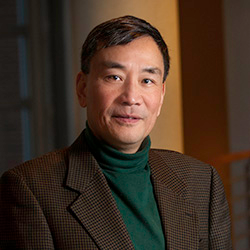 Contact Info
856-256-4500 x53992
Robinson Hall, 216D
Biography
Educated partly in China and partly in the US, Dr. Wang has taught at Rowan since 1992. His research focuses on the study of historiography (how history is written) and cultural and intellectual history of Asia, which are also his main teaching areas. Over the past decades, he has published a number of works on Chinese cultural and intellectual history, comparative historiography, historical theory and food history. Among his English publications are 
Chopsticks: A Cultural and Culinary History
 (Cambridge University Press, 2015), which won 
Choice
's "Outstanding Academic Title" and appeared in Chinese, Japanese and Korean; 
A Global History of Modern Historiography
 (coauthored with Georg Iggers, Pearson/Longman, 2008; revised edition in 2017), which has Chinese, German, Greek and Russian translations, and 
Inventing China through History: The May Fourth Approach to Historiography
 (SUNY Press, 2001). He won Faculty Research Achievement Award at Rowan in 2013 and received 
Changjiang Scholar
 Professorship at 
Peking University
 in 2007, which he has held since 2007. In 2018 he was awarded the Senior Researcher Award by the College of Humanities and Social Sciences at Rowan. A board member of the 
International Commission for the History and Theory of Historiography
 since 2005, Wang is also editor of 
Chinese Studies in History
(published by Taylor & Francis), a journal devoted to publishing works by Chinese historians for English readers, and of the forthcoming 
Historiography: Critical Readings
 in four volumes by Bloomsbury Academic Publishing in 2020.