Student Spotlight
Student Spotlight
CHSS Students Present at Bioarcheologists Conference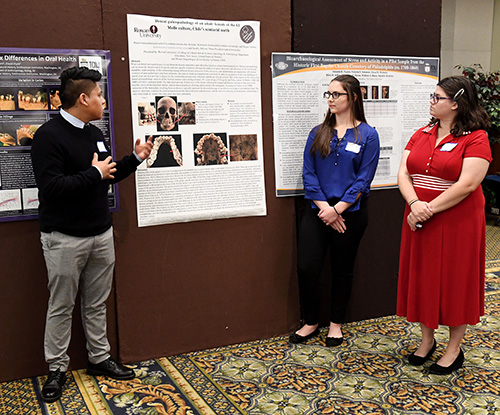 Two Rowan University students and an alumnus had the opportunity to present their research at the 8th Annual Bioarcheologists Northeast Regional Dialogue Meeting held on campus in October 2018.
The BNRD is a community of bioarchaeologists who work together to create a dialog on current research in the field of bioarchaeology and related fields of forensics, dental anthropology, paleoanthropology, and primatology. The BNRD is committed to sharing information among members to help advance the field theoretically and methodologically.
Led by Maria Rosado, professor of Anthropology, Rowan alumni Renzo Goicochea (Law & Justice Studies), Kristine Kortonick (Biological Sciences) and Megan Zalinka (History) presented "Dental paleopathology of an adult female of the El Molle culture, Chile's semiarid north".
"This was an exceptional opportunity for Rowan students to be involved in experiential and problem-based learning. Students benefit from participation and immersion in hypothesis-driven scientific method," said Rosado."
The project seeks to understand patterns of adaptation, cultural and biological, as discerned from paleopathology (study of ancient diseases) which leave indelible marks on bone. The paleopathology discoveries included dental infections, trauma, and bone infections which help to understand the evolution of disease in native peoples of this part of the world and the cultural, and environmental practices that may have contributed to them.
The research focused on what dental paleopathologies reveal about the disease experience and substance practices of past human populations. It stems from research being conducted on skeletal remains of Native South Americans of the Chilean Andes in the Coquimbo region who lived between 500 and 3000 years ago. The Museo Arqueologico de La Serena (MALS) archaeologists have uncovered/discovered over 1500 individuals which are housed in the MALS.
"Two other students and I worked in Chile with Dr. Rosado and presented our findings on an individual that had very interesting and unique dental paleopathologies," said Kristine Kortonick. "The individual that we focused on was a woman who was estimated to be greater than 50 years of age from Chile's El Molle culture approximately 2300-1200 years before present."
The 2018 BNRD conference was hosted by Dr. Maria Rosado and Rowan University in co-sponsorship with the College of Humanities and Social Sciences. The annual conference was started to create a smaller, regional, affordable alternative to national and international conferences for biological anthropologists. For more information on previous conferences, visit http://bnrdconf.wixsite.com/bioarchaeology/about-bnrd.