CHSS Students Present at STEM Symposium
CHSS Students Present at STEM Symposium
CHSS Students Present at STEM Symposium
Five College of Humanities and Social Sciences students presented at the STEM Symposium on Friday, April 20, 2018.
Maximilian Bielsa, Anthropology
Emily Grenier, History
Hope Holroyd, American Studies, Public Relations, Advertising
Daquan Washington, Sociology/Anthropology
Tyler Jiang, International Studies/History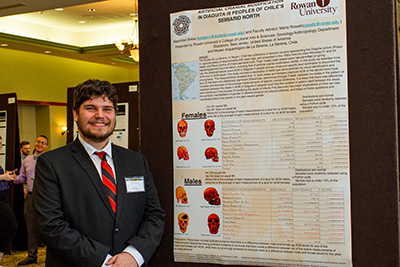 Maximilian presented Artificial Cranial Modification in Diaguita III Peoples of Chile's Semiarid North, which studied skeletal remains of the Diaguita culture. The discovery made through the research has major implications on how we view the symbolic manifestation of gender in skeletal remains via cultural practices and helps frames questions and hypotheses about how people in the past viewed gender.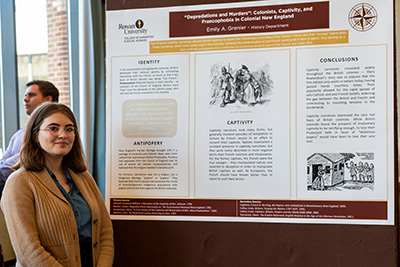 Emily presented "Depredations and Murders": Colonists, Captivity, and Francophobia in Colonial New England. This research explored national identity and the Britons explored their identity in the seventeenth and eighteenth centuries. Her argument is that New England captivity narratives allowed former captives to assert their Britishness in the face of the "popish" French and their "savage" native allies.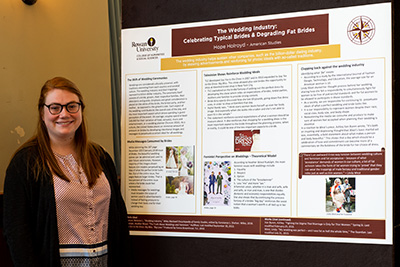 Hope presented The Wedding Industry: Celebrating the Typical Bride & Degrading Fat Brides. Examining the wedding ceremony tradition and how the media we consume shapes our values on these traditions, she argues that the wedding industry helps sustain other companies, such as the billion-dollar dieting industry, by skewing advertisements and reinforcing fat phobic ideals with so-called traditions.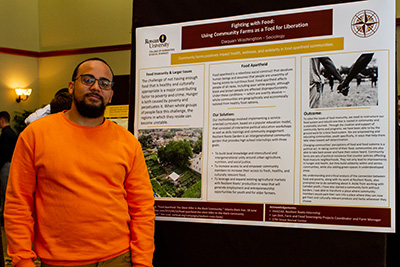 Daquan presented Fighting with Food: Using Community Farms as a Tool for Liberation. He argues that community farms are acts of political resistance that counter policies afflicting food-insecure neighborhoods. They not only lead to improvements in hunger and health, but they build solidarity within and across communities, while also adding green-spaces in underdeveloped areas.
Tyler presented The Horn of Africa: Next Frontier in the U.S. - China Relations. He argues that China's combined strategy of soft power and growing military power has proven effective and places into stark relief the U.S. withdrawal from the region and the unpopularity of the U.S. foreign policy in Africa and the Middle East.
---
This unique opportunity for Humanities related research to be featured throughout the symposium allowed the widespread understanding of research conducted across Rowan's whole campus. With future plans to expand across all colleges, this opportunity for CHSS students to participate allowed a glimpse into what a future research symposium will look like.
When reflecting on presenting, Emily said, "Presenting at the STEM Symposium gave me the opportunity to reach an audience that would generally not engage with my subject matter. A good number of people that looked at my poster were unfamiliar with my key concepts, but I found it especially rewarding to start from the beginning and gear my presentation to a totally different audience. I was able to gain a deeper understanding of the topic as a result, and it was great to see the look in people's eyes when everything just clicked for them."
Tyler also reflected saying, "Having the opportunity to present my research at a predominantly STEM event is something I never thought would be possible. Representing CHSS and my department really was a wonderful way for me to demonstrate my hard work and thank the faculty who supported me for four years." It was exciting for students to have the ability to present research from all aspects of the humanities field.