Africana Studies Home
Africana Studies Home
Welcome to Africana Studies
The Africana Studies program at Rowan is devoted to the study of the historical and contemporary challenges, experiences, and contributions of Africans, African Americans, and people of African descent throughout the world. One of the program's greatest strengths is its unique interdisciplinary approach to global black studies that offers students an array of courses from 12 academic departments on campus. Students can major or double major in Africana Studies, or pursue a minor.

Southern New Jersey's fastest growing demographic of minorities is a microcosm of America's increasingly diverse populations that live in majority minority cities across the country. As the nation and the world become more diverse, it is important for universities to offer majors like Africana Studies that will help students to not only develop race literacy, but also to learn other cultural competencies needed to excel in an increasingly multicultural workplace and globalized world. In today's society, employers are looking for individuals who can thrive in a changing and dynamic environment.
Watch Rowan students explain why the Africana Studies major or minor is important to them!
Student Testimonials
"My AS degree has helped me in the classroom because I was able to connect African American authors to my reading curriculum, use past events to help students connect to current events, discuss US History in more detail, and marry African American history to the Core Curriculum standards that are required by the State of New Jersey." --Tamera Bashenko, '13, Rowan University, Middle School Language Arts and Social Studies Teacher, Estell Manor School 
General e-mail: AfricanaStudies@rowan.edu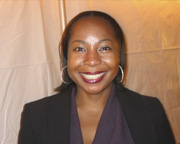 Chanelle Rose, Coordinator
rosec@rowan.edu 
Africana Studies Brochure
Harold Thompson
Senior Academic Advisor
thompsonh@rowan.edu / 856-256-5719
RSN Log in: https://sites.rowan.edu/student-success/rsn/index.html