General Romeo Dallaire
General Romeo Dallaire
Internationally recognized humanitarian affairs authority Lieutenant General Roméo Dallaire delivers annual CHSS lecture
The Rowan Center for Holocaust and Genocide Studies hosted retired Canadian Lieutenant General Roméo Dallaire for the Dr. Paul B. Winkler Annual CHSS Lecture on Wednesday, October 16.  General Dallaire, an internationally recognized authority on humanitarian affairs, was the Force Commander of the United Nations Assistance Mission in Rwanda before and during the genocide of 1994. Since then, he has worked tirelessly on critical human issues including mental health and PTSD, conflict resolution, the eradication of the use of child soldiers, genocide prevention, and humanitarian intervention.
During a wide-ranging and inspirational talk on "Conflict Prevention in a Globalized World: Rwanda Twenty-Five Years Later," General Dallaire encouraged Rowan students to take an active interest in global affairs in order to help shape the world of the twenty-first century.
General Dallaire also presented a Hollybush Seminar for the Hollybush Institute for Global Peace and Security. Held in the historic Hollybush Mansion, the seminar gave Rowan students and faculty the chance to talk with General Dallaire in a small group setting.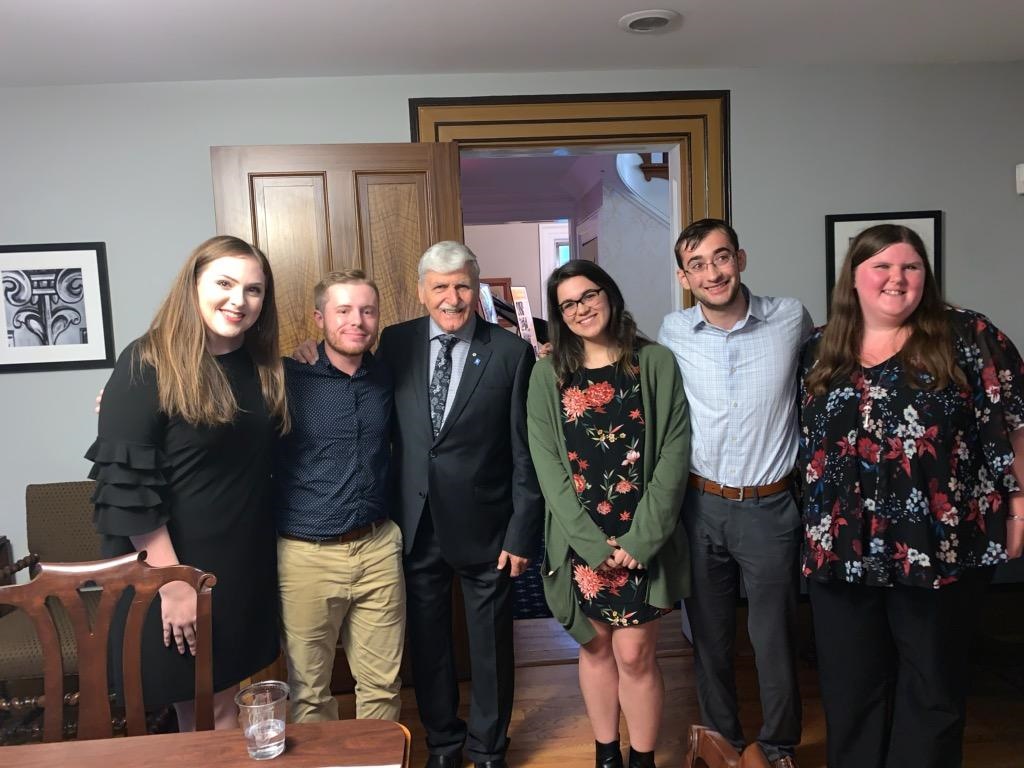 Pictured, left to right, Katherine Trauger (History/Political Science), Chase DeGuido (History/Education), General Dallaire, Gina Pfeiffer (History), Alex Rossen (International Studies), and Sylvia Hogue (History)