Student Research
Student Research
American Studies Student Research Award Information
EASA Awards
Rowan American Studies students have been recognized by the Eastern American Studies Association in various ways.
Publication in New Errands
Rowan students have regularly been published in the American Studies Undergraduate Magazine, New Errands.  The Eastern American Studies Association and the American Studies Program at Penn State Harrisburg sponsor New Errands, an online journal to publish exemplary American Studies work by undergraduate students. 
Patrick Glatz (2013) "Ritual Components of Black Friday," Kaitlin Dannibale (2014) "The Effects of the Holidays on Eating Disorders,"  Brianna Arney, "Race, Media, History and Relevance in Ava DuVernay's 'Selma' and Christina Tsoplakis, "Comparing and Contrasting the Women's Right's Movement" 2018.
Conference Papers Given at EASA
2019: 
Olivia Dellston "Search for Skinny: An Autoethnography Exploring Body Image, Eating Disorders and Diet Culture in the United States."
2018:
Christina Tsoplakis, "Comparing and Contrasting Women's Rights Movements from the 1960s and Today"
Sean O'Neal, "What Effects does the Ritual of Halloween Have on the United States Economy?"
Tyriese Holloway, "Stubborn Mules and Empty Wallets: Mythology as Cautionary Tales of Black Patriarchy in Hurston's Their Eyes Were Watching God"
2017: Brianna Arney, "Race, Media, History and Relevance in Ava DuVernay's 'Selma'."
2015: Rachel Weber, "Tyler Perry's Medea: Our Generation's Mammy/Matriarch"
2014: Kaitlyn Dannibale, "The Effect of the Holidays on Eating Disorders"
---
The American Studies Club Members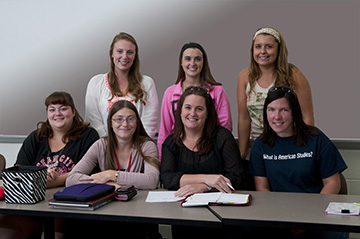 The American Studies Club offers students an opportunity to become a stronger community as majors in American Studies and to provide service and programming to the larger community.  We have annual service projects and offer programming for the Rowan population.  A favorite event is the Charlie Brown Thanksgiving, where students donate non-perishable items, gather to eat the traditional Charlie Brown Thanksgiving foods, have a potluck of Thanksgiving side dishes while we watch "Charlie Brown Thanksgiving."  
---
From 2007 to 2014, American Studies offered the American Studies Student Research Award. The award was given to the author of the best research paper written by a student in any section of the Senior Seminar in the academic year.
This award will make student applications to graduate schools or to jobs stand out from those of other applicants, and will provide evidence of your exceptional intelligence, academic ability, and maturity.
Good luck to everyone!
2013-2014 Winner: Kaitlyn Dannibale: The Effect of the Holidays on Eating Disorders
2011-2012 Winner: Ashley Hyland for her paper "The Ritual of Prom"
2010-2011 Winner: Katherine McLaughlin for her paper "Play-based Curriculum in Early Childhood: Keeping the Wonder of Education and Nature Alive"
2009-2010 Winner: Laurel Hartmann for her paper "Appropriate Reparations through Educational Reform"
2008-2009 Winner: Melissa Dickson for her paper "It's a Festivus for the Rest of Us"
2007-2008 Winner: Heather Averill for her paper "The Changing Face of Government Sponsored Civilian Volunteerism During the Cold War"