Stephen Fleming, Ed.D.
Stephen Fleming, Ed.D.
Stephen Fleming, Ed.D.

Associate Dean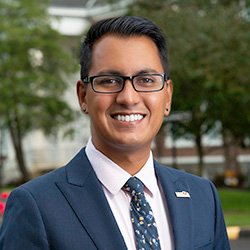 Contact Info
856-256-5844
Bozorth Hall, Rm. 139
Biography
Dr. Stephen Fleming has extensive experience working with students at the college level. A graduate of Rowan University, he began his paraprofessional career working with students in the residence halls as a Resident Assistant for four years. Upon completing two Bachelors degrees in Mathematics and Elementary Education, he immediately continued to pursue his passion for supporting and engaging students.
Through his Masters program in Counseling in Educational Settings at Rowan, Dr. Fleming gained experience in career counseling and academic advising. Concurrently, he supervised student staff, managed crisis and mediated conflict as a Resident Director. He also led the Chi Sigma Iota Counseling Honor Society as President, an organization that would later award him the Zeta Pi Chapter Alumni Award in 2016.
As a new professional, Dr. Fleming joined the Office of Residence Life & Housing at the University of Delaware as a Residence Hall Coordinator. Known for its work in residence hall curriculum design, assessment, and sustainability, the office fostered his interests in student mentorship and assessment. He led the development of a mentoring program, Mentoring and Exploration in Student Affairs (MESA) for undergraduate students interested in Student Affairs. The program has since expanded to a Student Life initiative. Dr. Fleming's passion is also evident in his most recent publication, Transforming a Wish into Reality: A Call to Action for Cultivating Professional Relationships. He also served on several committees including the department's assessment committee, on which he compiled three years of assessment data on student leadership into a comprehensive report. Through his time at UD, he was also engaged in instructing a Resident Assistant class, student conduct classes, and LGBT awareness workshops.
Dr. Fleming returned to Rowan as a Residential Learning Coordinator after a short time away. Through his time with the Residential Learning and University Housing office, he applied his teachings from the University of Delaware by implementing a curriculum to engage graduate Resident Directors in their personal and professional development. He also administrated a campus-wide assessment of student learning within the residence halls.
Dr. Fleming is has been an active member of the American College Personal Association (ACPA), having served on the directorate of the Coalition for Graduate Students and New Professionals for three years while leading several initiatives within the Coalition. He is also an active member of the Council of Colleges of Arts and Sciences (CCAS) and the National Association of Colleges & Employers (NACE).
In 2019, Dr. Fleming completed his Doctorate of Education (Ed.D) in Higher Education at Temple University. Titled The Effect of Out-of-Class Experiences on Critical Thinking Disposition Among College Students, his dissertation explores the effect of out-of-classroom experiences on students dispositions toward critical thinking. Dr. Fleming continues to be interested in leveraging out-of-classroom experiences to enhance cognitive outcomes. 
Dr. Fleming contributes the unique experience of guiding students on a personal level and understanding them as holistic individuals who present many different identities within the college setting. He has built several partnerships at Rowan to the end of student support and success. In recognition of his efforts, he was awarded a mentoring award from Rowan's Social Justice, Inclusion & Conflict Resolution Office in 2018 and the University's Student-Centeredness Award in 2019. As the Dean's office student liaison, Dr. Fleming draws on his background in Student Affairs to inform his practice and approach to working with students in CHSS.