Danielle Gougon, Ph.D
Danielle Gougon, Ph.D
Dr. Danielle Gougon, Ph.D.

Assistant Professor of Political Science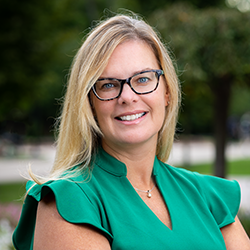 Contact Info
Biography
Danielle Gougon is a faculty member of the Political Science and Economics Department at Rowan University where she has taught since 2013.  Dr. Gougon earned her Ph.D. in Political Science from Rutgers, The State University of New Jersey and specializes in political theory, and women and politics.  Her teaching portfolio includes courses in Western Political Thought, American Political Thought, Gender and American Politics, American Government, Public Service Internship, and Global Challenges. She is the coordinator of the Political Science Internship Program and received Rowan's Wall of Fame Teaching Excellent Award in 2020.
Dr. Gougon is the Coordinator for Rowan's Bachelor of General Studies Program.  She also works closely with the Office of Student Success and provides curriculum development and support, as well as faculty mentoring and training for First Year courses including Rowan Seminar and Rowan 101: College Success. 
She currently serves as the President of the New Jersey Political Science Association