Archaic Homo Sapien P752
Archaic Homo Sapien P752
Collections
Museum of Anthropology
at Rowan University
Click any image to enlarge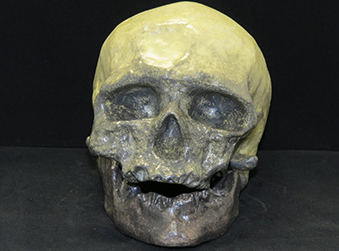 Object Number:
Current Location:
Culture:
Provenience:
Culture Area:
Locus:
Period:
Date Made:
Early Date:
Late Date:
Section:
Materials:
Iconography:
Description:
Height:
Length:
Width:
Thickness:
Credit Line:
Other Number:
Archaic Homo Sapien P752
The skeleton inside of you is also a Homo Sapien however, this specimen is about 30,000 to 10,000 years old. Archaic Homo Sapiens, also known as early modern humans, have been found all over the world. This specimen was found in Les Eyzies, France in 1868.

Like us, these early modern humans had an evolved brain which allowed them to communicate with others, build tools, and do other tasks to insure their survival. They spent most of their day gathering their food (plants, shellfish and hunted meat). This specimen has a thicker brow ridge than modern humans of today. This is a result of our evolutionary process.