Apply for Student Scholarships & Funds
Apply for Student Scholarships & Funds
Awards and Scholarships
The Philosophy and World Religions Department honors students each year with a variety of awards and scholarships. The department also has funding available to assist with student conference presentations, career development, and study abroad.
Dianne Ashton Endowed Scholarship in Religion Studies
Scholarship awarded to a College of Humanities and Social Sciences student who has successfully completed at least three classes in Religion offered by the Department of Philosophy and World Religions.
David Clowney Scholarship in Philosophy
This scholarship (approx. $1,000) is for an outstanding Junior Philosophy major. Funded by the Philosophy and World Religions Department.
Diversity, Equity, and Inclusion Scholarship - 
Apply here
This scholarship ($500) is meant to encourage and support students from traditionally underrepresented groups to study Philosophy and World Religions at Rowan University. Examples of underrepresented groups in our fields include: women, LGBTQ+ and gender-nonconforming people, people from economically disadvantaged communities, people with disabilities (broadly construed) and people of color or people racialized as nonwhite, including Chicano/a/xs and Latino/a/xs, Indigenous people, Pacific Islanders, people of African descent, and people of Asian descent.
Students from any major can apply if they have taken at least three Philosophy or World Religions courses (PHIL, REL or PHRE subject codes). Students must be applying for their Junior, Sophomore, or Senior year. Funded by the Philosophy and World Religions Department.
Entrance Scholarships (2 awards each year) 
These scholarships ($1,000/year renewable for 4 years) are for incoming first-year students who declare a major in either Philosophy or World Religions. Funded by the Philosophy and World Religions Department.
Charles Wei-Hsun Fu Memorial Scholarship in World Philosophy and Religion
This scholarship (up to $1000) was established in memory of professor Charles Wei-Hsun Fu of Temple University. It supports the development of the academic study of philosophy and religion studies in global context and perspective. There can be 
multiple recipients.
Paul Tong Memorial Scholarship for Excellence in the Humanities - Named in honor of former World Religions professor, Paul Tong.
Seniors of Distinction (one for Philosophy and one for World Religions)
These prestigious, college-recognized awards are for the graduating seniors who exemplify the best and brightest of the Philosophy and World Religions department. The winners of each award are recognized at a College reception each spring. The Philosophy and World Religions Department funds a monetary award for our departmental Seniors of Distinction.
Philosophy Medallion Award
This award recognizes a graduating senior in Philosophy based on academic leadership, personal growth and leadership. The winner of the award will be recognized at commencement. The Philosophy and World Religions Department funds a monetary award for our  Philosophy Medallion winner.
Professional Development Funding
The Department has funds available to support student professional development, including:  study abroad, c

onference attendance, conference presentations, membership fees, training, language programs, summer institute attendance, etc.
Other Departmental Awards and Funding
The Philosophy and World Religions Department also provides various awards and funds each year to majors and minors in our programs. Past awards have been given for Excellence in Philosophy, Excellence in World Religions and Excellence in Ethics.
---
Previous Winners of Awards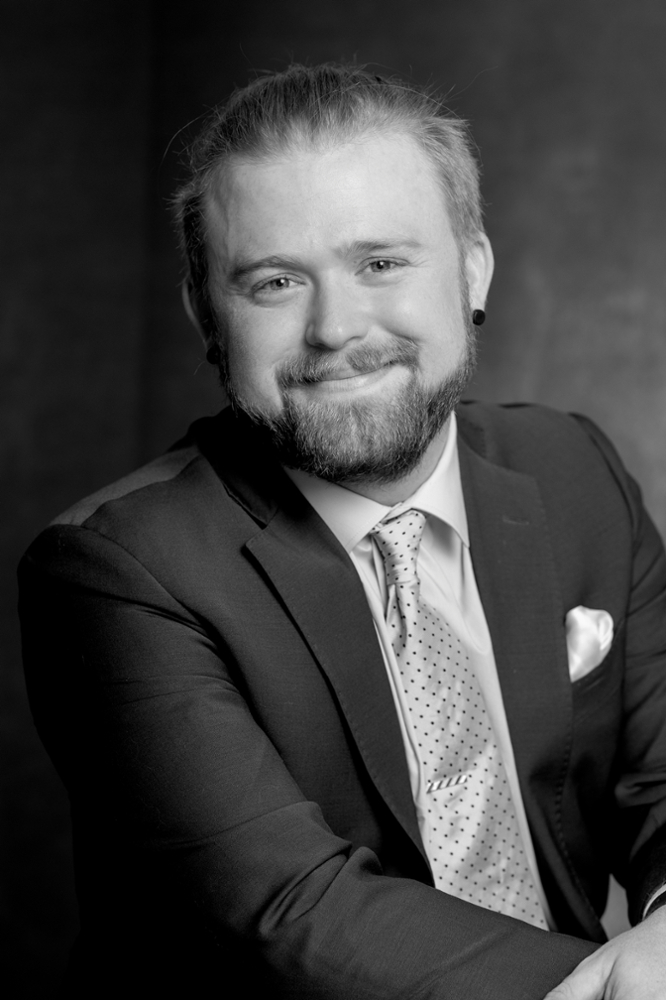 Clifford Phillips (Philosophy BA) is the 2022 recipient of the David Clowney Scholarship for Excellence in Philosophy, $2,500.
"I have always found philosophy to be the most fascinating, intriguing, and challenging subject in all of academia, while also being a necessity in allowing me to find purpose in my life. To quote Socrates, "The unexamined life is not worth living." Philosophy has been the most beneficial to my growth as a person in that it is primarily the examination and questioning of all things without restriction. I could not have asked for a better department to explore the subject alongside than the one here at Rowan University. The staff here has been nothing but exceptional in their instruction and assistance, while they still continue to challenge me to grow and develop as a person and as a philosopher. I hope that all students who attend Rowan have the opportunity to explore the beautiful subject of philosophy alongside the tremendous professors that instruct here."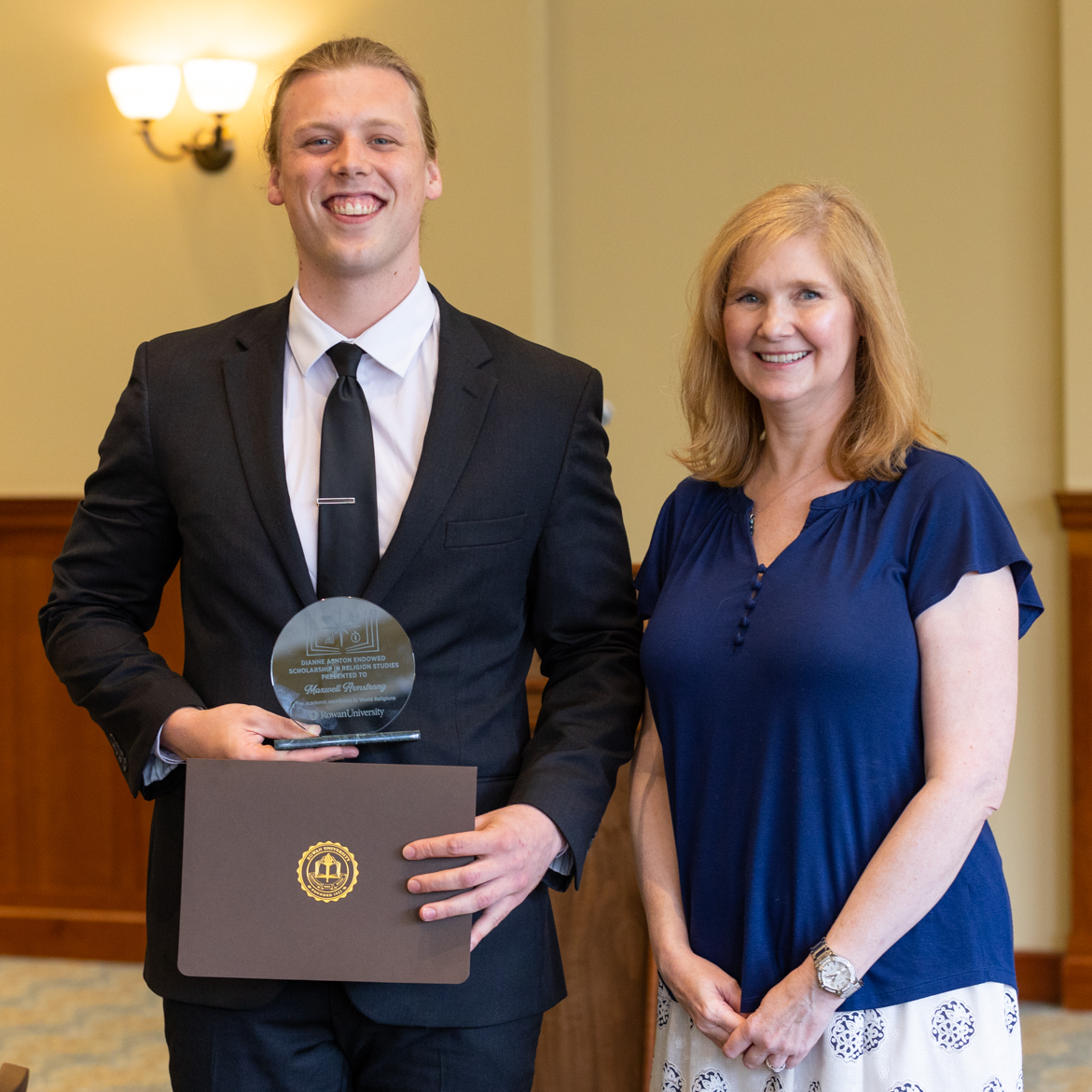 Maxwell Armstrong (World Religions BA and Philosophy BA) is the 2022 recipient of the Dianne Ashton Endowed Scholarship in Religion Studies.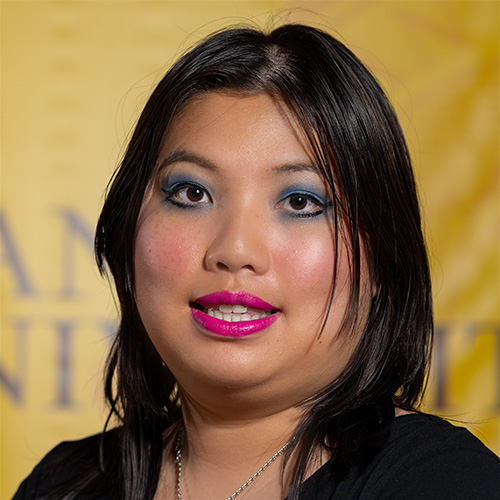 Bria Rivello (Riley), 2022 Senior of Distinction, World Religions BA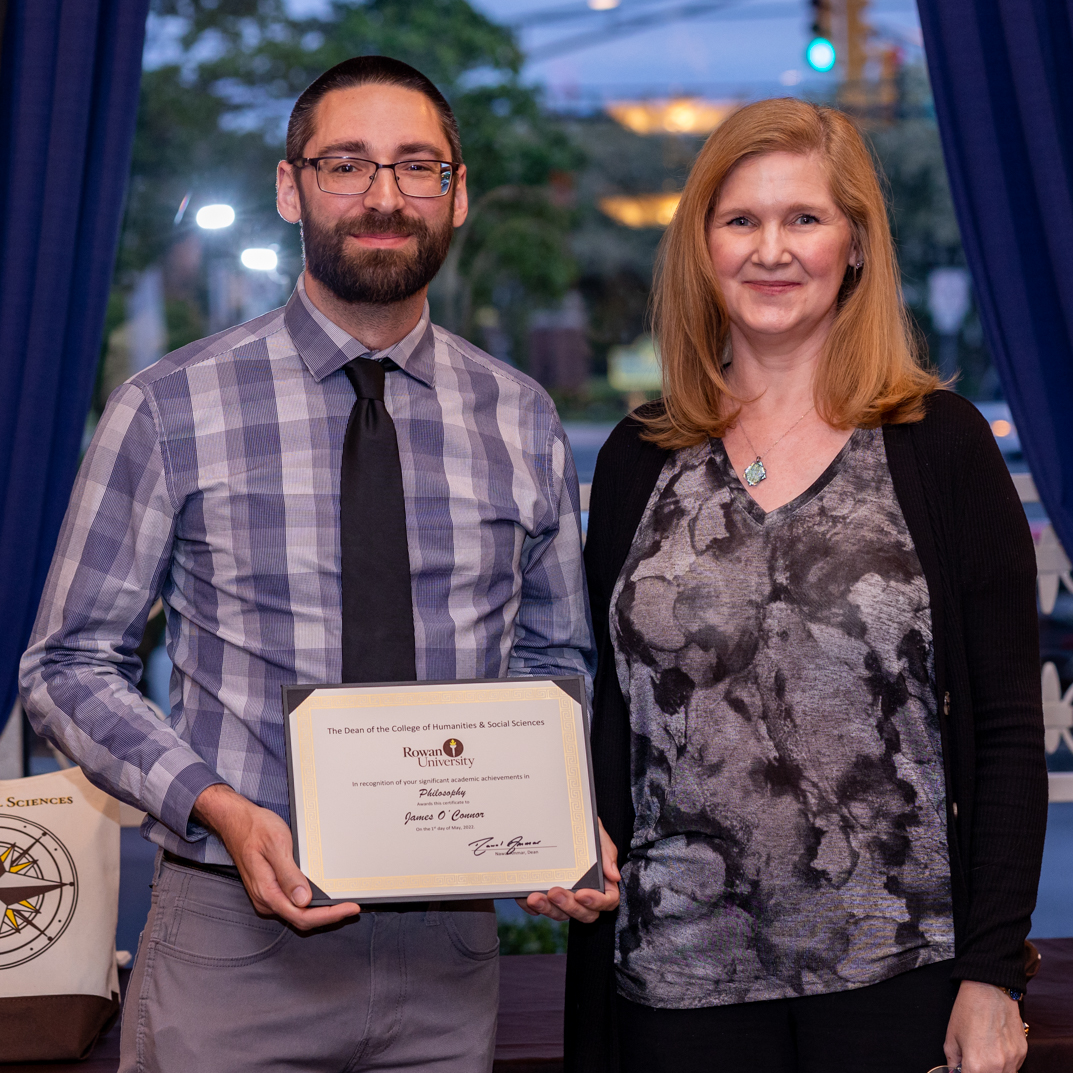 James O'Connor, 2022 Senior of Distinction, Philosophy BA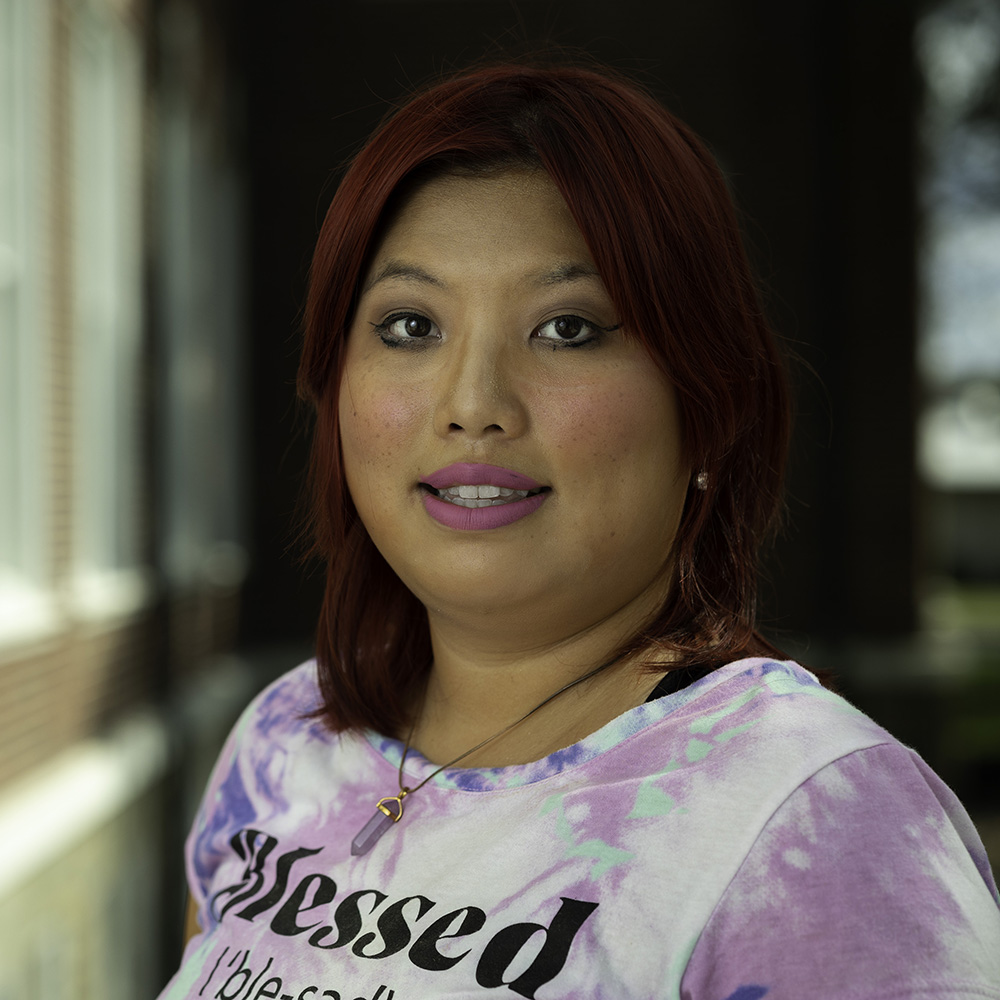 Dianne Ashton Scholarship in World Religions (2021), $2,500
Bria Riley is a World Religions and Psychology double-major and Women and Gender studies Minor. As an incoming senior, she maintains a 4.0 GPA.  Bria has been accepted to the Master of Arts in Religious Studies program at the Chicago Theological Seminary. Her scholarly excellence was rewarded with a substantial scholahip for her graduate studies. Bria self-published her book called "The Art of a Healing Soul: Expressions of My Lessons in this Earth School So Far" and has a spiritual self-help blog.  Bria combines her scholarly pursuits with a deep commitment to service and outreach.
Bria Riley: "I never thought that I would be a world religions major. However, through the world religions major, I have discovered that the academic study of religion is so much more than surveying religious practices or preparing to work as clergy. Rather, it is about learning to critically think, question authority, understand how religion influences the human experience, and develop multi-cultural competency and a respect for diversity. All of the professors I have had have been amazing, and I love the flexibility of the program that allows me to explore my interest of religion and sexuality."
David Clowney Scholarship in Philosophy (2021), $2,500
James O'Connor: "What I love about studying Philosophy is that it is an umbrella discipline under which all of my interests are covered; Ethics, Aesthetics, Science, Metaphysics, the study of the mind, and everything else that I have found makes the examined life worth living. As a nontraditional transfer student, studying Philosophy first at Rowan College before coming to Rowan University, I have found both programs to be deeply rewarding, intellectually challenging, and ever engaging in my areas of interest. The faculty at both institutions have been incredibly supportive in my journey to get not only a degree but an education."
James O'Connor embodies excellence in his academic, professional, and service activities. He is an active member of the Rowan University Philosophy Club where he serves as SGA Senator for AY 2021-22. James is a member of Phi Sigma Tau International Honor Society in Philosophy. James has been a commission member for the Gloucester County Cultural Heritage Commission for 3 years. In 2015 he began volunteering with the Gloucester County Library System assisting the library and the public with launching their new MakerStudio@GCLS. Soon after, he was recruited to join as a full-time employee where he managed the makerspace studio. Through his work at the library, he was able to get a community garden started at the Mullica Hill Library. This garden is now entering its sixth year of operation, growing beneficial pollinator plants as well as numerous vegetables. Most of this produce is donated to the Glassboro Foodbank or is used at the library for educational cooking/gardening classes. In addition to his academic and library work, he is also an exhibiting artist with shows recently at Rowan College and The Glassboro Historical Society in 2019 and 2020 respectively. In January of 2021, after 3 years of organizing, James was part of an organizing coalition that helped the GCLS successfully unionize. James serves as Vice President of CWA 1085.
Gianna Hill is a recipient of the David Clowney Scholarship for Excellence in Philiosophy (2019)- $2,500 and the Medallion Award for Excellence in Philosophy, 2021.
"I took an honors intro to philosophy course and attended a Philosophy Club meeting and loved the nature of philosophical discussion and inquiry so much that I decided to add Philosophy as a second major. I enjoy the flexibility of the program, which allows me the opportunity to customize my education specifically to my interests."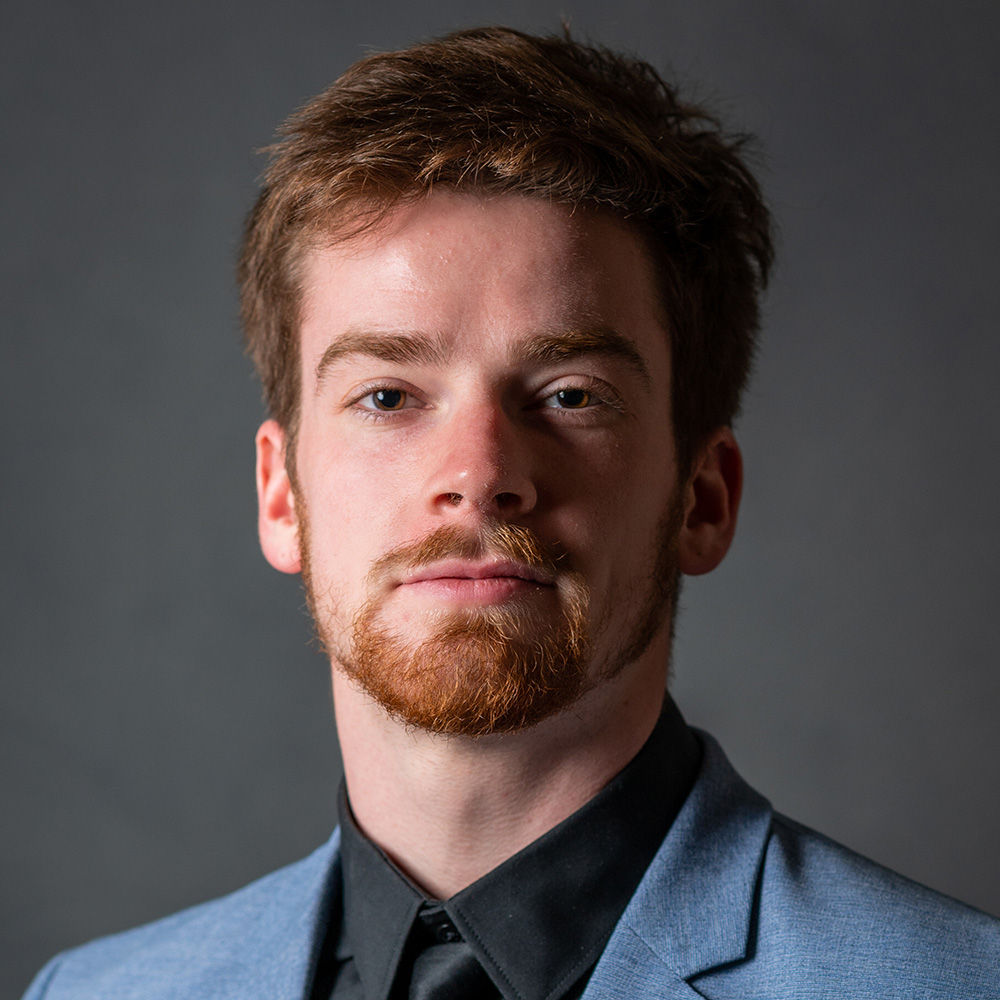 Chad Shire - 2020 CHSS Senior of Distinction recipient.
Mr. Chad Shire—a President's Scholar of Excellence—is a double major in Philosophy and Psychology (B.S.) with a Neuroscience minor. He works as a research coordinator and oversees students working with patients on the schizophrenia spectrum. He has conducted original research in cognition and mental health. In addition, Mr. Shire is an award-winning diver and has been on the Rowan diving team during his entire academic career. He was a Regional Qualifier and received the NJAC Diver of the Year award in 2019. He plans to complete a Ph.D. in neuroscience, a degree that combines his undergraduate research in philosophy and psychology. Mr. Shire is a conscientious and ethical student; we look forward to the contributions he will make to the mental health field. 
Marissa Considine - 2019 CHSS Senior of Distinction recipient.
Marisa Considine is a double major in Philosophy and Theatre with concentrations in Musical Theatre and Honors Studies. She is the recipient of the 2019 Joseph Robinette Excellence in Theatre and Dance Senior Medallion, the 2018 Charles Wei-Hsun Fu Scholarship in World Philosophy and Religion, and the inaugural David Clowney Philosophy Scholarship Award. She is a 2018 Kennedy Center American College Theatre Festival Irene Ryan Acting Scholarship Competition Nominee and is on Rowan's President's Scholars of Excellence List. Along with being a member of Phi Sigma Tau Philosophy Honor Society and founding President of the Philosophy Club, Marisa has appeared in ten college theatre productions and has presented her scholarly research at Rowan's Annual Ethics Conference. She is an avid traveler and tap dancer, most recently studying genocide in Europe and visiting a school in rural India. Marisa plans to attend graduate school, exploring opportunities in a range of fields. The Philosophy and Religion Studies Department is very proud of Marisa's many accomplishments and contributions. We look forward to hearing how she uses her intelligence and passions in this next chapter of her life.