Archaeology and Public History
Archaeology and Public History
Battle Lab: Archaeology and Public History at Red Bank Battlefield Park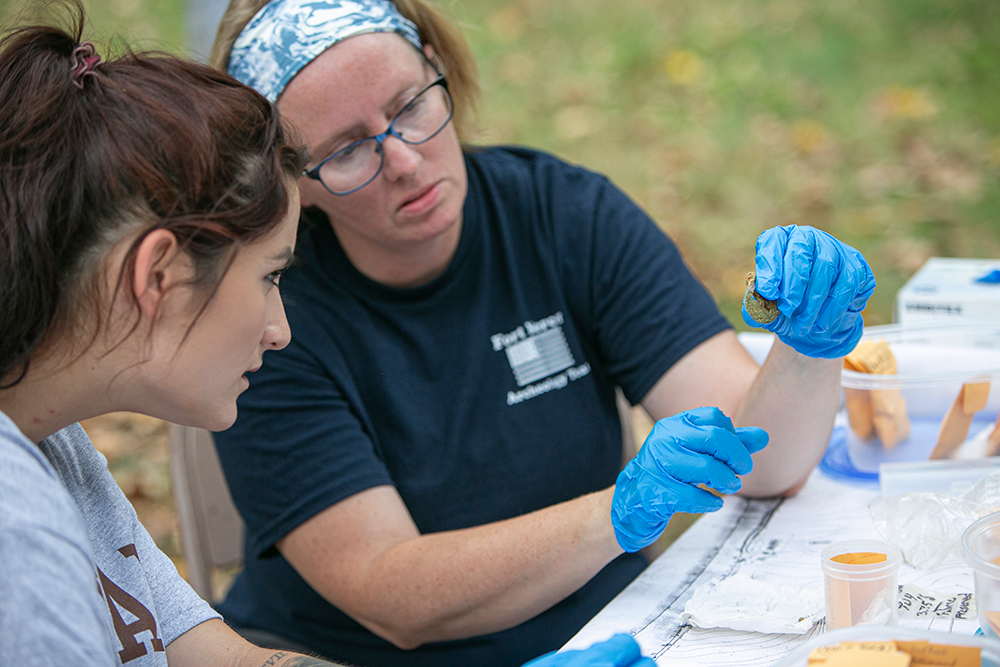 Introduction
On October 22, 1777, the Fort Mercer Battle of Red Bank was fought. In this Revolutionary War battle, over 2,000 Hessian soldiers fought 600 American soldiers and were defeated. After the battle, American soldiers destroyed the fort and abandoned it. This May, the College of Humanities and Social Sciences is giving you a chance to see the history of this battle from a whole new perspective.
What is it?
The Red Bank Battlefield Field School is a unique opportunity for students to get hands-on experience at a real archaeological site. When Gloucester County's Department of Land Preservation purchased a ¼ acre lot north of Red Bank Battlefield Park's boundary in 2020, they discovered an untouched Fort Mercer trench. After receiving a grant from the New Jersey Historical Commission, Red Bank Battlefield chose Wade Catts, a Registered Professional Archaeologist (RPA), to lead an archaeological survey. This grant supported the traditional archaeological  survey of the trench, as well as provided four days for the public to participate. On the last day of the project, June 26, a volunteer made an incredible discovery: a human femur. After this discovery, the park partnered with the New Jersey State Police Forensic Anthropology Unit to remove the femur for further study. Since then, the remains of at least 15 individuals were found. Red Bank Battlefield hopes to identify the identities of these individuals and reinter the remains after evaluating them.
When is it?
The class runs from May 13-June 21. It takes place on Tuesdays and Wednesday from 9 a.m. to 1:00 p.m. Students are also required to participate in one of the park's Saturday public archaeology days: June 1, June 8, or June 22.
Where is it?
Right at the battlefield! The address is 100 Hessian Ave, National Park, NJ, 08063. It is right on the Delaware River and about 25 minutes from Rowan. Students will have to arrange their own transportation.
Who can take it?
The course counts for both Anthropology and History credits, but anyone can take it, regardless of your major! "In the field of public history, we are all about accessibility and getting people involved," Dr. Janofsky says. The course is also available to Graduate students.
For more information about the course, please review the website.  If you have additional questions, contact Dr. Janofsky at lawrencej@rowan.edu for more information.

What will we do?
At Red Bank Battlefield Field School, students can expect to get their hands dirty while learning the basic fundamentals of archaeology with Wade Catts. This includes hand excavation, unit measurement, screening, and processing artifacts. Dr. Janofsky says, "It's very traditional, hands-on archaeology, students will literally get their hands dirty working in the park with us, on the battlefield." Students will also work with Dr. Janofsky and interact with park visitors. The archaeology site is fascinating to visitors at Red Bank Battlefield, so students will work with Dr. Janofsky to explain and garner interest in the archaeological process.
What is the trip to the Museum of the American Revolution?
Students will get a behind-the-scenes tour of the Museum of the American Revolution, the premier museum in the country for discussing the American Revolution. Students will have the opportunity to meet with members of the collections department and the education team to get a better understanding of how that museum uses objects, material culture, and archaeology to connect with their visitors. Dr. Janofsky says, "It's gonna be a really exciting opportunity for students to learn more, not just about the connection with objects, but also the potential employment opportunities in the field."
Why should I take it?
Whether you're a History major or an Anthropology major, this class will present history to you from a whole new angle. Take it from Dr. Janofsky herself, I hope [students] get a better appreciation for how history happens outside of the classroom, all the time. Students are so accustomed to being in the classroom as a learning environment. We want to get students out of that traditional learning environment into a more hands-on space where they can think about history in a different way. For anybody who might be interested in archaeology, I want them to be thinking about how you explain to average people what it is you're doing and why it's important. So really developing these communication skill sets with both groups of students to really give them a more rounded perspective on how we work with history.
For all the non-majors hoping to take this class, here's what Dr. Janofsky hopes you take away from it, I hope that maybe they like history. I think so many students are put off by dates and memorizing facts and big long bluebook exams. That's not what this class is. This is about thinking about history in a non-traditional way and hopefully an exciting way. It's very much exploratory. When you pull an item out of the ground that hasn't seen the light of day in 245 years, that's an electric moment. That's what gets people excited about history.