Faculty & Staff
Faculty & Staff
Faculty & Staff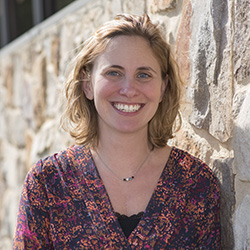 Jenny Rich - 
Executive Director
B.A. Muhlenberg; M.Ed. Bank Street College of Education; Ed.D. Rutgers
Full Bio
richj@rowan.edu
Dr. Rich is an associate professor in the Department of Sociology and Anthropology.  Her research focuses on Holocaust education and memory.  Her first book, Keepers of Memory: The Holocaust and Transgenerational Identity, reconceptualizes the ways in which Holocaust memories are transmitted from one generation to the next.
Dr. Rich teaches undergraduate courses, including Sociology of the Holocaust, and The American Response to the Holocaust, and graduate courses within the Masters program in Holocaust and Genocide Education.
Jody Russell Manning - Program Director
B.A., ABD Clark
Full Bio
manningj@rowan.edu

Jody Russell Manning teaches Modern European History with a focus on Holocaust and Genocide Studies. Manning served as the first American intern in the ICEAH at the Auschwitz-Birkenau State Museum from 2005-2009, which continued through his 2010-2011 Fulbright fellowship year. His doctoral work, at the Strassler Center for Holocaust and Genocide Studies, Living in the Shadows of Auschwitz and Dachau: Memorial, Community, Symbolism, and the Palimpsest of Memory, provides a comparative socio-cultural historical study that analyzes the relationship between two Holocaust memorials and their local communities. Manning co-founded and organized the first International Graduate Students' Conference for Holocaust and Genocide Studies at Clark University and also served as academic advisor to the Clark Historical Society. 
Having shared his research with students and classrooms across the globe, most notably at Jagiellonian University, Eckerd College, Westtown School, and Youngstown State University, Manning's academic interests include Holocaust history, Post-WWII Cities and Societies, Polish-Jewish Relations, German-Jewish Relations, Post-Communist Poland, Comparative Genocide, Racial Thought, as well as Memorials and Memory. His publications explore the continuing ramifications of genocide for contemporary society.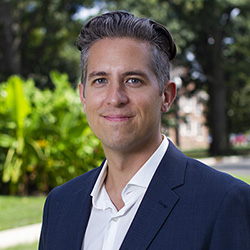 Mikkel Dack - Research Director
M.A. at the University of Waterloo; Ph.D. at the University of Calgary
Full Bio
dack@rowan.edu
Dr. Dack teaches courses on Modern European History, with a special interest in twentieth-century Germany, the World Wars, and post-WWII Europe. He earned his M.A. at the University of Waterloo and Ph.D. at the University of Calgary, and has also studied at the Freie Universität Berlin and Helmut Schmidt Universität in Hamburg. 
Dr. Dack's research engages with psychosocial history, emotions, memory, gender and sexuality, military studies, and international law. His current book project examines the Allied military occupation of Germany after WWII and attempts to simultaneously punish and reorient former Nazis. He is especially interested in the psychological and social effects of denazification on the individual German. Dr. Dack has also written research articles on post-traumatic stress amongst Nazi perpetrators, political denunciation, the expulsion of ethnic Germans from Poland and Czechoslovakia, and negative eugenics legislation.
Dr. Dack's scholarship has been awarded grants and fellowships from an array of sources, including the German Historical Institute, Deutscher Akademischer Austauschdienst, and the Social Sciences and Humanities Research Council of Canada.​
Debbie Sharnak - Director of Human Rights Initiatives
Full Bio
sharnak@rowan.edu

Debbie Sharnak teaches courses on Latin American History, with a special interest in human rights, US-Latin American relations, sports, and the Cold War. Dr. Sharnak earned her B.A. at Vassar College, and her M.A. and Ph.D. at the University of Wisconsin-Madison. Before coming to Rowan, she was a Lecturer for Harvard University's History and Literature program, and she has also taught at New York University, Tufts University, and Hunter College.
Dr. Sharnak's research studies the history of human rights, transnational advocacy networks, Latin America, and foreign policy. In her current book manuscript, "Of Light and Struggle" in Uruguay: Contesting the International History of Human Rights, she explores the origins and evolution of human rights discourse in Uruguay, particularly during its transition back to democratic rule. The research addresses issues of transitional justice, the rise of the transnational human rights movement, and the shifting terrain of human rights in the 1970s and 1980s. She has been published in The Journal of Iberian and Latin American Studies, Diplomacy & Statecraft, Taller, and several edited volumes. She has done work for various NGOs and non-profits including Freedom House, the International Center for Transitional Justice, and the New Media Advocacy Project. She was a Fulbright Scholar in Uruguay.
website: debbiesharnak.com 
linkedin: linkedin.com/in/debbiesharnak
---
Fellow
Karen Uslin
B.A. Muhlenberg; M.A., Ph.D., The Catholic University
uslin@rowan.edu
Karen Uslin teaches Music Appreciation and General Music History; her areas of specialty include Music and the Holocaust, Central/Eastern European Studies, Latin American Studies and American Music. Uslin served as a fellow for the inaugural program of the Rafael Schachter Institute of the Defiant Requiem Foundation and has continued to work with the Foundation. Her dissertation, Grasping at Hours of Freedom: Musical Life in the Terezin Concentration Camp, focused on documents from prisoners describing the musical and theatrical activities in Terezin. Her forthcoming book, Willing Ourselves to Live: the Terezin Writings of Viktor Ullmann, will be the first published English translation of the music critiques and essays of the late composer.
Uslin has presented her work for the American Musicological Society, College Music Society, Czechoslovak Studies Association and the Association for Slavic, Eastern European and Eurasian Studies as well as various other national and international conferences. She has also guest lectured at colleges and universities in the United States. In addition to research, Uslin is also an active performer, participating in concerts both in the United States and Europe.
---
Advisory Board
Dianne Ashton: Professor, Philosophy & Religion Studies
Jay Chaskes: Professor Emeritus, Sociology & Disabilities Studies
Kelly Duke Bryant: Associate Professor, History
Bob Eisenberg: Instructor, Language, Literacy & Sociocultural Education
Mary Gallant: Professor, Sociology & Anthropology
Harriet Hartman: Professor, Sociology & Anthropology
James Heinzen: Professor, History
Tony Hostetter: Instructor, Theatre & Dance
Melissa Klapper: Professor, History
Susan Moricca: Adjunct Professor, College of Education
David Rubenstein: Associate Vice-President for Student Wellness
Edward C. Smith III: Associate Professor, Foreign Languages & Literature
Nawal Ammar: Dean, College of Humanities & Social Sciences, ex officio
Monika Williams Shealey: Dean, College of Education, ex officio