Lambda Alpha Honor Society
Lambda Alpha Honor Society
Lambda Alpha – National Anthropology Honor Society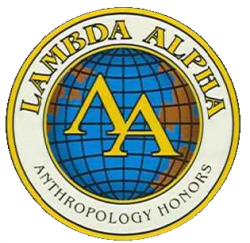 The Department of Sociology & Anthropology at Rowan University is the Theta Chapter of Lambda Alpha. We are the eighth chapter in the State of New Jersey. The honor society supports both scholarship and research of its members through student scholarships, research grants, and paper competitions.
Why Join Lambda Alpha at Rowan University?
A national honor society is a fantastic way of acknowledging the challenging work that students put into their education. Membership in Lambda Alpha is a way to celebrate your academic excellence and bolster your professional credentials. Membership and any leadership opportunities that may arise from it are great ways of enhancing your time at Rowan and stand out on a resume. Members also receive graduation cords as a mark of distinction for the commencement ceremony.
How to Join Lambda Alpha at Rowan University
Membership is limited to declared anthropology majors and minors with a GPA in anthropology of 3.0 (and a cumulative GPA of 2.5 for all coursework taken at the university). Declared majors and minors must have a minimum of 12 credit hours of coursework to apply.
The membership application consists of an application form (available at the Lambda Alpha website or in the department) and a $25 lifetime membership fee (this is paid only once). These will be sent to the faculty advisor for verification. More information is available here: Lambda Alpha membership information
Who to Contact for More Information?
The faculty advisor is Dr. James Hundley
The president (2020-2021) is Kimberly Proctor