Academic Ableism
Academic Ableism
Academic Ableism and Universal Design: Pivoting Towards Accessibility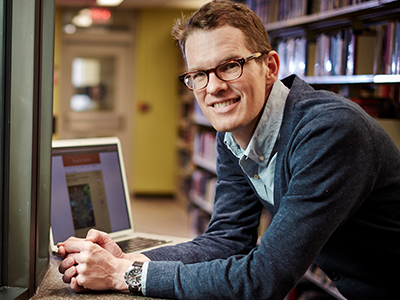 Dr. Jay Dolmage, Department of English Language and Literatures, University of Waterloo, Ontario, Canada
Friday, April 23, 12:30-1:45
Recording of Dr. Dolmage's talk 
(the sound improves after the introduction at 1.55)
Link to text of Dr. Dolmage's talk
Link to PowerPoint from Dr. Dolmage's talk
In this workshop, we will discuss Universal Design as an alternative to traditionally inaccessible teaching spaces and approaches, with a focus on the changes we can make during and after Covid-19 that will prepare us to build more inclusive and effective classrooms for the future.
Dr. Jay Dolmage is​ a professor in the Department of English Language and Literatures at the University of Waterloo in Ontario whose work brings together rhetoric, writing, disability studies, and critical pedagogy. His first book, entitled Disability Rhetoric, was published with Syracuse University Press in 2014. Academic Ableism: Disability and Higher Education was published with Michigan University Press in 2017 (also available in open-access online) and Disabled Upon Arrival: Eugenics, Immigration, and the Construction of Race and Disability was published in 2018 with Ohio State University Press. He is the founding editor of the Canadian Journal of Disability Studies. 
To learn more about Universal Design:
Download a Word version of "Online Resources" from Dr. Dolmage's book on Academic Ableism at https://www.fulcrum.org/concern/file_sets/j3860906x?locale=en. This is an "exhaustive inventory of Universal Design "places to start" ideas that Dr. Dolmage has collected over the years. It's organized by topic--lectures, discussion, tests, group work, large assignments, etc. These resources are also listed in the open access version of Academic Ableism.  


See Dr. Dolmage's article, "Universal Design: Places to Start," published in the Disability Studies Quarterly (2015), https://dsq-sds.org/article/view/4632/3946.
Sponsored by the College of Humanities and Social Sciences and the CHSS DEI Committee.