DeMond Miller, Ph.D.
DeMond Miller, Ph.D.
DeMond Miller, Ph.D.

Professor of Sociology / Professor of Disaster Science & Emergency Management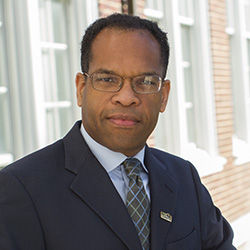 Contact Info
Campbell Library, Fifth Floor
Biography
Research Interests
Disasters
Environment
Place and Space
Humanitarian Crises
Emergency Management and Disaster Response

Selected Publications
Miller, DeMond S., Christopher Gonzalez, and Mark Hutter. 2017. "Phoenix tourism within dark tourism: Rebirth, rebuilding and rebranding of tourist destinations following disasters." Worldwide Hospitality and Tourism Themes 9(2):196-215.
Chtouris, Sotiris and DeMond S. Miller. 2017. "Refugee Flows and Volunteers in the Current Humanitarian Crisis in Greece." Journal of Applied Security Research 12(1):61-77.
Miller, DeMond Shondell and Sotiris Chtouris. 2017. "Postcards From the Edge of Europe: Immigrant Landscapes and the Creation of Greektopia, Heterotopia and Atopia in Lesvos, Greece." Space and Culture 20(3):359-68.
Miller, DeMond Shondell and Jason David Rivera. 2011. Comparative Emergency Management: Examining Global and Regional Responses to Disasters. Boca Raton, FL: CRC.
Evans, Stephanie Y., Colette M. Taylor, Michelle R. Dunlap, and DeMond S. Miller, eds. 2009. African Americans and Community Engagement in Higher Education: Community Service, Service-Learning, and Community-Based Research. Albany, NY: State University of New York.
Miller, Demond Shondell and Jason David Rivera. 2008. Hurricane Katrina and the Redefinition of Landscape. Lanham, MD: Lexington.
Courses Taught
Environment, Policy, and Society
Sociological Research Methods
Senior Seminar: Community Development
Senior Seminar: Disasters
Senior Seminar: Media and Society
Sociology of Medicine
Applied Community Development
Social Determinants of Health
Sociology of Disasters and Crisis
Links
About DeMond Miller