Harriet Hartman
Harriet Hartman
Harriet Hartman, Ph.D.

Emerita Professor of Sociology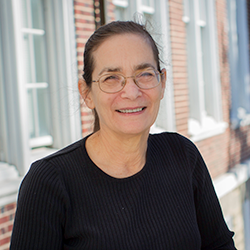 Contact Info
Biography
Research Interests
Engineering Diversity
Jewish Studies
Gender
Family
Geographic Areas
United States
Israel
Selected Publications
Hartman, Harriet. 2018. "Is Jewishness Related to How American Jewish Women Age?" Nashim: A Journal of Jewish Women's Studies & Gender Issues 32:38-57.
Hartman, Harriet. 2017. "The Jewish Family." Pp. 79-126 in American Jewish Year Book 2016, edited by A. Dashefsky and I.M. Sheskin. Cham, Switzerland: Springer.
Hartman, Harriet. 2016. "Gender Differences in American Jewish Identity: Testing the Power Control Theory Explanation." Review of Religious Research 58(3):407-31.
Hartman, Harriet and Moshe Hartman. 2009. Gender and American Jews: Patterns in Work, Education, and Family in Contemporary Life. Waltham, MA: Brandeis University.
Hartman, Harriet, ed. 2008. Integrating the Sciences and Society: Challenges, Practices, and Potentials. Bingley, United Kingdom: Emerald.
Selected Awards
2016-2021
National Science Foundation Grant ($1,922,980)
Co-Principal Investigator: "Rethinking Engineering Diversity, Transforming Engineering Diversity"
2012
North American Jewish Data Bank Berman Summer Research Fellow
Courses Taught
Introduction to Sociology for Pre-Med Students
Sociology of Religion
Socialization of the Child through Adolescent
Comparative Education in Sociological Perspective
Sociology of Education
Contemporary Jewish Life