Field Experience Information
Field Experience Information
Field Experience Information
Welcome to the Human Services Field Experience Home Page. Whether this is your first time in the field, or you are finishing up your last field course, we have all the information you need to ensure a smooth and successful field experience.
Field Experience Requirements: 
Students must successfully complete Applied Ethics. Applied Ethics is only offered in the Fall. This serves as preparation for Field Experience I which is only offered in the Spring.
Site supervisors need to have a Masters in human services (or higher), or closely related field. 
The site supervisor and student develop learning goals at the beginning of the semester to work on throughout the year. These goals are recorded on the learning contract and submitted to the Field Coordinator at the beginning of the semester.
The organization agrees to sign a field placement agreement (The field coordinator is responsible for this step)
Students should have contact with clients, although they understand that some work is administrative. 
Supervisors agree to one site visit a semester from the field instructor where they will discuss they learning goals, progress, etc.​
Students agree to complete 15 journals by the end of the semester. Most students complete 1 journal per week. 
Field Experience Documents
FAQ
How many field hours do I need to complete field?
Each student is required to complete 360 hours of field by the time they graduate. This breaks down to 120 hours per three semesters or 8 hours per week for 15 weeks.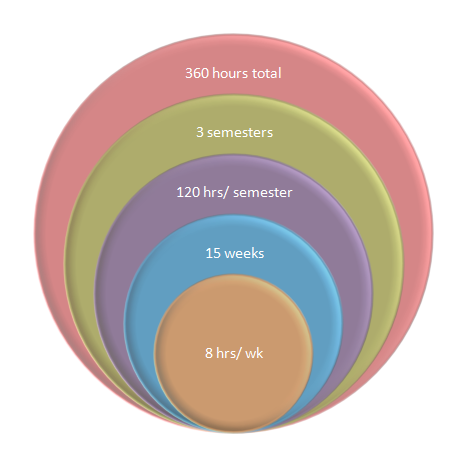 Are there any prerequisites for Field I?
Yes. Students are required to complete Applied Ethics prior to starting Field I. 
Are night and weekend internships available?
Yes and No. Many non-profits operate during regular business hours so students often flex their work/  class hours for the nights and weekends. 
Depending on the program, some agencies do programming at night or after school hours to meet the needs of working parents/ children. 
Residential facilities often have night and weekend hours available.  
If this is necessary for you, the earlier you set up a placement the easier finding these placements will be. However, the diversity of the placements may not be great.  
Students should be prepared to arrange their school and work schedules to accommodate the required internship.
Do I have to find my own internship or will one be provided for me?
Students are encouraged to take an active role in finding their field placements for the upcoming semester. Students should look at the RU Human Services Field Resource List to explore various agencies and topics that might interest them. Once, a potential placement is found, the students should contact the Human Services field coordinator with the information.
If barriers arise or more guidance is needed in finding a field placement, students should reach out to the field coordinator no later than 2 months before the start of the next semester.
See the So You Need an Internship tab for more detailed information.
What is the recommended time-frame for applying for an internship?

Will I need to complete a background check and/or finger printing?
All Students should be prepared to complete a background check and/or finger printing for their internship. These checks will be done through your agency / site placement. Students should not complete their own background check or finger printing as each agency may have their own required process.
Each agency is their own unique entity and are bound by differing licensing, accreditation and/or grant standards. While no universal standard exists for who can work in the field of social services, many agencies have created their own general standards when hiring or taking interns. Questions that may want to know:

When did the incident/ event occur? There can be time limits on when an agency will hold something against you. 1 year ago vs. 25 years ago
The more vulnerable the population, the more concern there will be with who is hired. This is especially true for child welfare licensing.
Driving backgrounds can be more or less important depending on the agency.
Misdemeanors are often weighted less than felonies (i.e. Shoplifting vs. drug or assault charges)
Your Field Coordinator can help you navigate some of these challenges. The sooner you let them know, the more time you have to find an appropriate placement. 
Can I use my current place of employment as a field site?
Maybe. There are several conditions that need to be met in order for you to use your place of employment for your field course. Please see EMPLOYMENT FIELD SITES for additional information.
---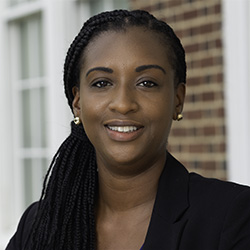 Professor Jalyssa Ivy, MSW - Field Coordinator
hunter32@rowan.edu