Alumni Spotlight
Alumni Spotlight
Alumni Spotlight
More than 70 family, friends, faculty and staff members gathered to celebrate the achievements of 15 distinguished seniors from each College of Humanities & Social Sciences degree program during the Seniors of Distinction ceremony held on Sunday, March 10, in the Rowan Boulevard Marriot.
Every year each CHSS department or program chooses one outstanding student who stands out among their peers in their major—a student who not only demonstrates academic achievement but represents the best in the discipline to receive the Senior of Distinction designation.
CHSS Dean, Nawal Ammar congratulated the seniors on their hard work and urged them to remember the award with pride. She also reminded them that as seniors of distinction they have a responsibility to others and to make a lasting impact on society.
"Distinction is the quality or state of being excellent," said Ammar. "Excellence is to be used for the benefit of people, not just the benefit of self. Take pride in this accomplishment. Go be a part of society. Go out and make a difference."
The keynote Speaker for the evening was Valerie Buickerood, director of engagement & communications at Hopeworks, a nonprofit dedicated to changing the lives of youth through education, technology and entrepreneurship. Buickerood, a Rowan alumnus who graduated in 2003 with a degree in History encouraged students to be open-minded and to not always take the straight and narrow career path.
"You may have a strong sense of where you want to go. Or, you think you're sure, but maybe not," said Buickerood. "Be open and understand all of the things that are out there. My advice would be to hone the skills, the traits you've learned as students here at Rowan. Network and meet people, you never know where that might go."
Buickerood also shared the importance of developing and maintaining transferrable skill. She told students that the skills they learned in CHSS, such as critical thinking and teamwork will lead to future career growth.
"One of the things that I utilized from my education here at Rowan, especially from a humanities standpoint, I have applied everywhere I have been in my career," said Buickerood. "In the humanities we know how to research and synthesize information, we know how to write and communicate. These are skills that are valued everywhere you go by employers."
Receiving the designation of senior of distinction is both an honor and a responsibility for the chosen students. Seniors of Distinction recipients are expected to make an impact in their future careers and also serve their communities. Seniors of Distinction are also encouraged to stay connected and share their successes with Rowan, with the College of Humanities & Social Sciences, and with their department after graduation.
2019 CHSS Seniors of Distinction:
| | |
| --- | --- |
| Nydreama | Africana Studies |
| Rebecca Messer | American Studies |
| Joseph Foti | Disaster Preparedness and Emergency Management |
| Joseph Salvo | Economics |
| Rachel Barton | English |
| Riley Shea | History |
| Jasmine Sample | Human Services |
| Vanessa Washington | International Studies |
| Raymond Philippe | Law and Justice |
| Olivia Dellston | Liberal Studies |
| Joseph N. Antaki | Modern Languages & Linguistics |
| Marisa Considine | Philosophy & Religion |
| Rbrey Singleton | Political Science |
| Daquan Washington | Sociology |
| Paola Florido | Spanish |
Muqaddas Ejaz awarded Freedom Medal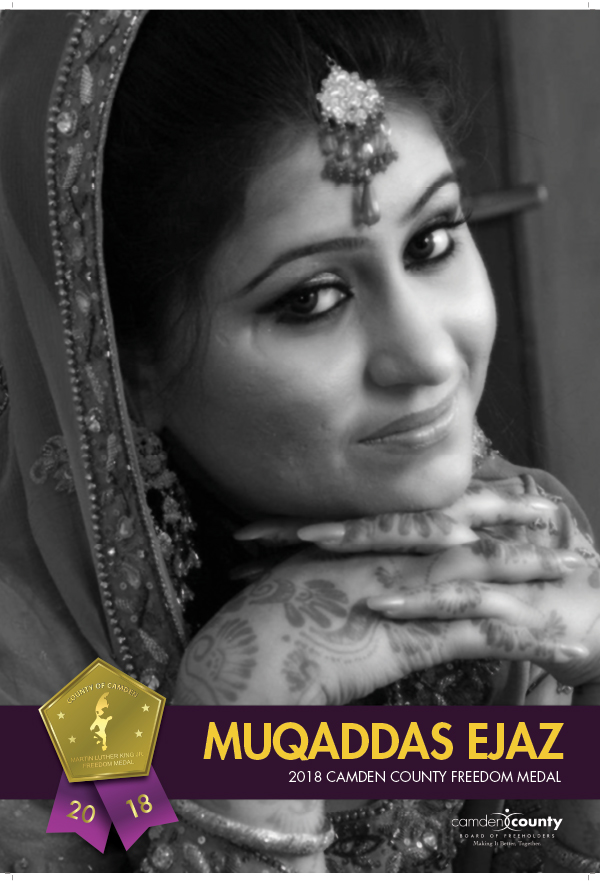 Muqaddas Ejaz was recently nominated and awarded for the 2018 Camden County Freedom Medal. Devoted to serving others, Ejaz remains involved in many organizations bettering the local community. She is a member of the Cherry Hill Democratic Committee, sergeant at the Camden County College Public Safety Department and co-leader of the Southern New Jersey Chapter of the Sisterhood of Salaam Shalom since September 2016. Recently, Rep. Donald Norcross recognized her as a woman of Honor in Education in May. Part of the ceremony Mayor Chuck Cahn declaring February 12th as Muqaddas Ejaz day in Cherry Hill, New Jersey. Muqaddas reflected saying, "I am grateful to the Cherry Hill Mayor and Cherry Hill Council for the honor." Ejaz graduated from Rowan University with a bachelor's degree in history and a concentration in international studies. She holds her family, God and her community as the foundation for everything she does. We are proud of all the achievements Muqaddas Ejaz made over the years and continues to contribute to her community.
Muqaddas Ejaz is a committed Community Activist and Community Outreach Specialist in Camden County. She is of the Muslim faith and works with her Jewish counterparts as Co-Leader in the South Jersey Chapter of the Sisterhood of the Salaam Shalom, which promotes peace, understanding, and friendship. Muqaddas led the First Annual Camden County S.U.R.E. Summit this past June and has designed, planned, and led other community events, seminars, and cultural events for the diverse population. Her leadership skills have been used on various boards, including the Camden County Cultural and Heritage Commission. The Commission works to strengthen the cultural framework of Camden County by educating the community and supporting grassroots organizations with funding and technical assistance to deepen the interactions between cultural practitioners and residents. Muqaddas has also been the lead for the English as a Second Language and Computer Literacy program at the Muslim American Community Association.
---
Amanda Ashworth, CHSS 2017 Commencement speaker, shares how her experience was here at rowan.