Yeldell Receives the Rowan NAACP Image Award
Yeldell Receives the Rowan NAACP Image Award
Stanley Yeldell Receives the Rowan NAACP Image Award for the Most Impactful Male Faculty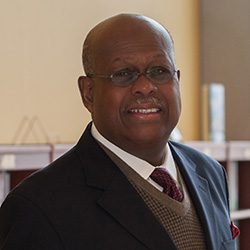 Law & Justice Studies Associate Professor Stanley Yeldell was awarded the 2021 Most Impactful Male Faculty by the Rowan University Chapter of the National Association for the Advancement of Colored People.
He has been a member of the Rowan Law & Justice Studies faculty for 46 years, almost as long as the 48 years old department has been in existence.
Yeldell is being recognized for his dedication and commitment to the welfare of his students both on and off-campus—teaching important life lessons along with valuable skills that will help them succeed in life—well beyond finals and term papers.
"We believe that faculty who care about the welfare of students while providing meaningful lessons will help Rowan students succeed beyond the four walls of a classroom," said Jadi Reddick-Green, president, Rowan NAACP Chapter.
According to the award description, "The Most Impactful Faculty Award" was created in the late 2000s to honor faculty members that have dedicated their time and energy to connect with students on and off campus. This is the first year it has been awarded to both a male and female faculty member.
Receiving this award is very meaningful to Yeldell because he has been a member of the NAACP since he was 13-years-old where he served as the treasurer of the Gloucester County Youth Division.
At the age of 17, he traveled with the NAACP from Glassboro to the March on Washington, DC and witnessed the famous "I Have a Dream Speech" given by Martin Luther King, Jr. In 1968, while a student at Bowie State University, Yeldell, along with other students were arrested in Annapolis, Maryland, as part of a demonstration requesting more financial aid for Bowie State, an Historically Black University. In response to the protest, then Governor Spiro Agnew ordered the students be arrested and the University closed. The NAACP Legal Counsel arranged for the students to make bail and represented them in Criminal Court where the charges were dismissed. His arrest came on the very evening Dr. King was assassinated in Memphis, Tennessee.
"This award is very special to me because Thurgood Marshall was legal Counsel for the NAACP and he won the "Brown v. Board of Education case in 1954," Yeldell said. "It should also be noted that Thurgood Marshall was a graduate of my alma mater Howard University School of Law in Washington, DC.
Yeldell credits the historical work of the NAACP and the Brown v. Board of Education ruling for opening doors for him to attend the integrated Aura Elementary School and Delsea Regional High School.
During his more than four decades of teaching he has received many recognitions for his outstanding teaching, advisement and community service and mentoring excellence. Currently, he teaches Victimology and Internship courses. Previously he has taught Introduction to Courts, Forensic Law, Civil Aspects of Law Enforcement, Criminal Law, Survey of Criminal Justice, American Police, Criminal Jurisprudence and Law & Evidence.
This is the second award that Yeldell has received from the Rowan University NAACP Chapter. Previously, he was awarded the Most Dedicated Staff Member and Outstanding Achievements at Rowan University. Yeldell serves on the Executive Board of the Gloucester County NAACP. He has also been the recipient of the Gloucester County NAACP award for being a "Game Changer in Education for Forty years."
Because of current social distancing restrictions, the award was announced via a video posted to the chapter's Instagram account on March 1.