CHSS Faculty Recognized for Excellence in Service
CHSS Faculty Recognized for Excellence in Service
CHSS honors two professors with its annual Excellence in Research Awards
Rowan University's College of Humanities & Social Sciences honored two faculty members with its 3nd annual Excellence in Service Awards during its College Assembled earlier this year.
Awarded for the first-time in 2018, the CHSS Excellence in Service Award recognizes faculty for outstanding service to students, programs, departments, CHSS or the university.
Professor Sandra Joy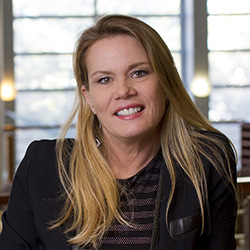 Department of Sociology & Anthropology Professor Sandra Joy was presented with the 2020 Assistant/Associate/Full Professor Award. Professor Joy also joined Rowan University in 2002 and has produced a remarkable record of service at Rowan.
Professor Joy seamlessly integrates her academic research, her university service commitments, and her promotion of social causes. Her recent research concerns the death penalty and mass incarceration—focusing on their social impact on children.
According to her nomination, "Rather than just studying these phenomena, Professor Joy works with groups supporting the children of incarcerated parents. She teaches regularly in prisons, and she is an active participant in social advocacy groups such as the Coalition Against Death By Incarceration. Indeed, it would take too long to list all of her efforts just in this one area."
The other noticeable feature of Professor Joy's service is her focus on students. She advises a wide range of student organizations: from honor societies like Alpha Kappa Delta to the Maroon Book Club to the recently-formed U Good F.A.M., which supports the well-being of students of color. Particularly impressive is her mentoring of students through the conference process. Every year, she works with several students, shepherding them through every step of the complicated process: from proposals and travel funding to designing and delivering the presentation. She has co-authored research with students, and several of her former mentees are now working in the department.
Professor Joy has a truly impressive record of service to Rowan and to the wider community. Based on these achievements, it is a pleasure to recognize Sandra Joy as the recipient of the 2020 CHSS Excellence in Service Award.
Professor Jeffrey Schwartz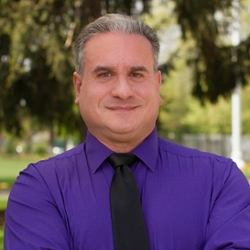 Department of Law & Justice Studies Professor Jeffrey Schwartz received the 2020 Instructor/Lecturer Award. Professor Schwarz, who also joined the Department of Law & Justice Studies in 2002, brings both practical experience as a retired Woodbury Police officer and academic expertise to his work in the areas of course creation, program development and as chair of the Law and Justice Studies curriculum committee. Of paramount importance is his exceptional and time consuming work with the Law and Justice Studies 3+1 program at Rowan College of Burlington County and now Rowan College of South Jersey, including building a robust internship program in both places from scratch, working with them to help monitor and mentor interns, and developing dozens of MOAs with a wide variety of institutions.
According to his nomination, "Professor Schwartz has always been willing to volunteer for departmental committees and events and helped develop signature events such as the department's career fair. He has a long record of service to the wider professional community through various contacts and affiliations with law enforcement agencies and organizations. In addition, Professor Schwartz has compiled an outstanding record of service to Law and Justice Studies, the college, the university, and beyond. He has been the "go-to guy" for teaching and service in his department."
Congratulations Professors Schwartz and Joy on this achievement!