CHSS honors two professors with its annual Excellence in Research Awards
CHSS honors two professors with its annual Excellence in Research Awards
CHSS honors two professors with its annual Excellence in Research Awards
Rowan University's College of Humanities & Social Sciences honored two faculty members with its annual Excellence in Research Awards during its College Assembled in November.
Awarded for the first-time in 2017, the CHSS Excellence in Research Awards honors faculty members for their outstanding achievements in research activity.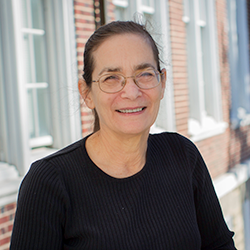 Harriet Hartman, sociology professor and chair of the department of sociology and anthropology received the 2019 Senior Faculty Excellence in Research Award, and Joel Capellan, law & justice studies professor received the 2019 Pre-Tenure Excellence in Research Award in recognition of their influential research accomplishments.  
Professor Hartman is an American-born and American/Israeli trained sociologist whose scientific contributions span over several important areas. Her research interest are in the area of gender studies, with an emphasis on social structural gaps and equality, and Jewish identification characteristics and differentials. Most of her work has been devoted to Jewish identification in the United States and Israel.
As noted in her nomination for the 2019 Senior Faculty Excellence in Research Award, "Her work has deepened and broadened our understanding of the way gender shapes access to education, career avenues, resources, healthcare, and religious support systems." Since 1996, when Hartman began working at Rowan University, she has published three peer-reviewed books, 30 scholarly articles, eight chapters in peer-reviewed books, 10 reviews of scholarly books, and 15 other contributions to collections of scholarly conference proceedings.
In addition, she has delivered 48 papers at academic conferences, and since 2014 has served as the editor-in-chief of the scholarly journal Contemporary Jewry. Her books have been reviewed in all of the relevant scholarly journals.
Hartman's many publications and lectures convey her knowledge and insights across the academic world and funding agencies have supported her time and again, as evident by the many research grants and awards. Her most recent collaboration is with Rowan faculty in the Henry Rowan College of Engineering on a five-year National Science Foundation (NSF) Revolutionizing Engineering Departments (RevED) project entitled, "Rethinking Engineering Diversity, Transforming Engineering Diversity," which aims to bring more women and other under-represented minorities into the field. Hartman is a co-principal investigator on the grant, and the only social scientist on the team.
At Rowan, Hartman's courses include Introduction to Sociology for Pre-Med Students, Sociology of Religion, Socialization of the Child through Adolescent, Comparative Education in Sociological Perspective, Sociology of Education, and Contemporary Jewish Life.
Law & Justice Studies professor Joel Capellan received the 2019 Pre-Tenure Excellence in Research Award. Professor Capellan specializes in statistics and spatial analysis. He has broad research interests. Capellan has conducted and published research on state-sponsored repression, segregation, mass public shootings, lone wolf terrorism, policing bias, and criminological and sociological theories.
Currently, he is devoting most of his attention to the study of mass public shootings. Mass public shootings have been an incredibly understudied phenomenon. Research on this topic has been hindered by data availability. To solve this problem, Dr. Capellan constructed a database of mass public shootings in the United States from 1960 to 2014. This database, created from open-source materials, contains demographic information on offenders and victims, as well as incident-level data on preparation, execution, and conclusion of the attacks. With this data, Professor Capellan attempts to shed light on crucial unanswered aspects of this phenomenon.
He has been awarded a wide range of research grants and awards, has published extensively in the area of law & justice studies and has been interviewed by regional and national media on the topic of mass public shootings.
Capellan holds a doctorate in Criminal Justice from the CUNY Graduate Center in 2016. Prior to his doctoral studies, Dr. Capellan earned an M.A. in Social Science research from the University of Chicago and a B.A. from Buffalo State College.
His recent courses include Research Methods, Mass Murder, Criminal Justice, Seminar in Law & Justice and Criminal Justice Research.