Current Psi Iota Fellow
Current Psi Iota Fellow
Psi Iota Fellowship Program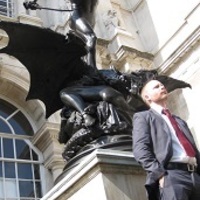 Glenn McDorman
Glenn McDorman earned his BA in history from the University of Illinois at Chicago and an MA in Classics at the University of Colorado, and has been a visiting scholar at the Centre for Late Antiquity at Oxford University and in the School of History at the University of Leeds. He currently serves as a Fellow at the Princeton University Writing Center, where he is also completing his dissertation on Warfare and the Transformation of Communities in the Early Medieval West.  
Psi Iota Teaching Fellow-in-Residence
Since 2008-2009, Rowan University's Psi Iota branch of Phi Alpha Theta (PAT), the national history honors society, has sponsored a fellow-in-residence program. The program is designed for an A.B.D. candidate finishing doctoral work but is also available to recent Ph.D.'s. Fellows have received an office with a computer, access to the University's libraries and databases, secretarial support, a modest fund for research or travel related expenses, and a combination of salary and honorarium. Fellows are typically required deliver a lecture and an overview of their research for an audience of advanced undergraduates in history. Fellows also have the opportunity to share a chapter or other in-progress research with faculty members in the History Department's works-in-progress seminar. Fellows teach two upper division courses in their general area of specialty, one in each semester of their fellowship.
The applicants for this part-time fellowship have been extremely impressive, with candidates applying from universities all over the United States and abroad, including:
City University of Hong Kong
El Colegio de Mexico
London School of Economics
Princeton University
Rutgers University
SUNY Buffalo
SUNY Stonybrook
Temple University
University of Delaware
University of Illinois
University of Iowa
University of London
University of Memphis
University of Oklahoma
University of Pennsylvania
University of Toronto
And more
As one can see below, the successful candidates have been successful both in their time at Rowan and in finding employment upon completion of their fellowships, which are usually renewable for up to two years.
Year of Fellowship: Name of Fellow (position upon leaving Rowan)

2016-2018: Michael McInneshin (Visiting Faculty, Widener University)
2015-2017: Elizabeth Gennari-O'Connell (Visiting Faculty, American Studies Program, Rowan University)
2014-2016: Adrian Brettle (Andrew W. Mellon Foundation Fellow at the American Civil War Muesum, Richmond, Virginia)
2013-2014: Lauren Pearlman (Visiting Professor, U.S. Military Academy, West Point)
2012-2013: Stephanie Opperman (Assistant Professor, Georgia College)
2011-2013: Laurie Lahey (Assistant Professor, University of South Florida)
2011-2012: Matthew Karp (Assistant Professor, Princeton University)
2009-2011: Gill Frank (Visiting Assistant Professor and ACLS New Faculty Fellow, SUNY Stonybrook)
2008-2010: Isabelle Rohr (Frances Patai Lectureship in Holocaust Studies, City University of New York)