Melissa Klapper, Ph.D.
Melissa Klapper, Ph.D.
Melissa Klapper, Ph.D.

Professor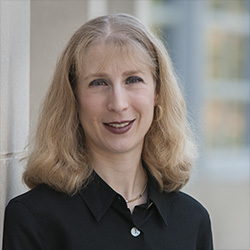 Contact Info
856-256-4500 x53982
Robinson Hall, 216N
Biography
Dr. Melissa R. Klapper earned her BA from Goucher College and her PhD from Rutgers University. She teaches American and women's history, with a focus on the late 19th and early 20th century and additional research interests in the history of childhood, the history of education, and American Jewish history. She is the author of Jewish Girls Coming of Age in America, 1860-1920 (NYU Press, 2005) and Small Strangers: The Experiences of Immigrant Children in the United States, 1880-1925 (Ivan R. Dee, Publisher, 2007), as well as numerous articles and essays. She lectures widely in a variety of academic and community settings. She is the book review editor of the journal American Jewish History and recently completed a term as the co-chair of the Association for Jewish Studies's Modern Jewish History--The Americas division.  She is currently the Coordinator of the Women's & Gender Studies Program at Rowan University.

Dr. Klapper's scholarship has been awarded grants and fellowships from an array of sources, including the American Jewish Archives, the Hadassah-Brandeis Institute, the National Endowment for the Humanities, the Schlesinger Library on the History of Women at Harvard University, and the YIVO Institute for Jewish Research, among many others. Her book Ballots, Babies, and Banners of Peace: American Jewish Women's Activism, 1890-1940 (NYU Press, 2013), won the National Jewish Book Award in Women's Studies. Dr. Klapper's most recent book is Ballet Class:  An American History (Oxford University Press, 2020).