Jennifer Janofsky
Jennifer Janofsky
Dr. Jennifer Janofsky, Ph.D.

Megan Giordano Fellow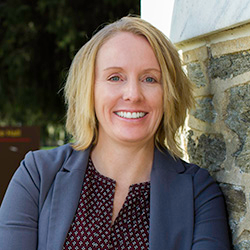 Contact Info
856-256-4500 x64818
Robinson Hall, 215C
Biography
Dr. Janofsky teaches classes in public history Including topics in public history, material culture, pre-Civil War America, and internship in history. Dr. Janofsky received her B.A. from the University of Scranton, her M.A. from  Villanova University and her Ph.D. from Temple University where she studied early American history and public history. Her doctoral worked focused on Eastern State Penitentiary where she worked as site supervisor from 1997-2001. She is the Megan Giordano Fellow in Public History and curator of Red Bank Battlefield Park. Janofsky most recently curated the exhibit "From Yellow Fever to Midwifery: Life and Death at the Whitall House" and served as project director for the American Battlefield Protection Program grant supporting a phase one archeological survey of Red Bank Battlefield.