Events
Events
Events
President's Day 2023 was another great success.  Beginning at 4pm, undergraduate and graduate students presented their research projects in poster format.  Nominated for their excellence by faculty, these students impressed all who attended, including keynote speaker, Jay Sexton of the University of Missouri.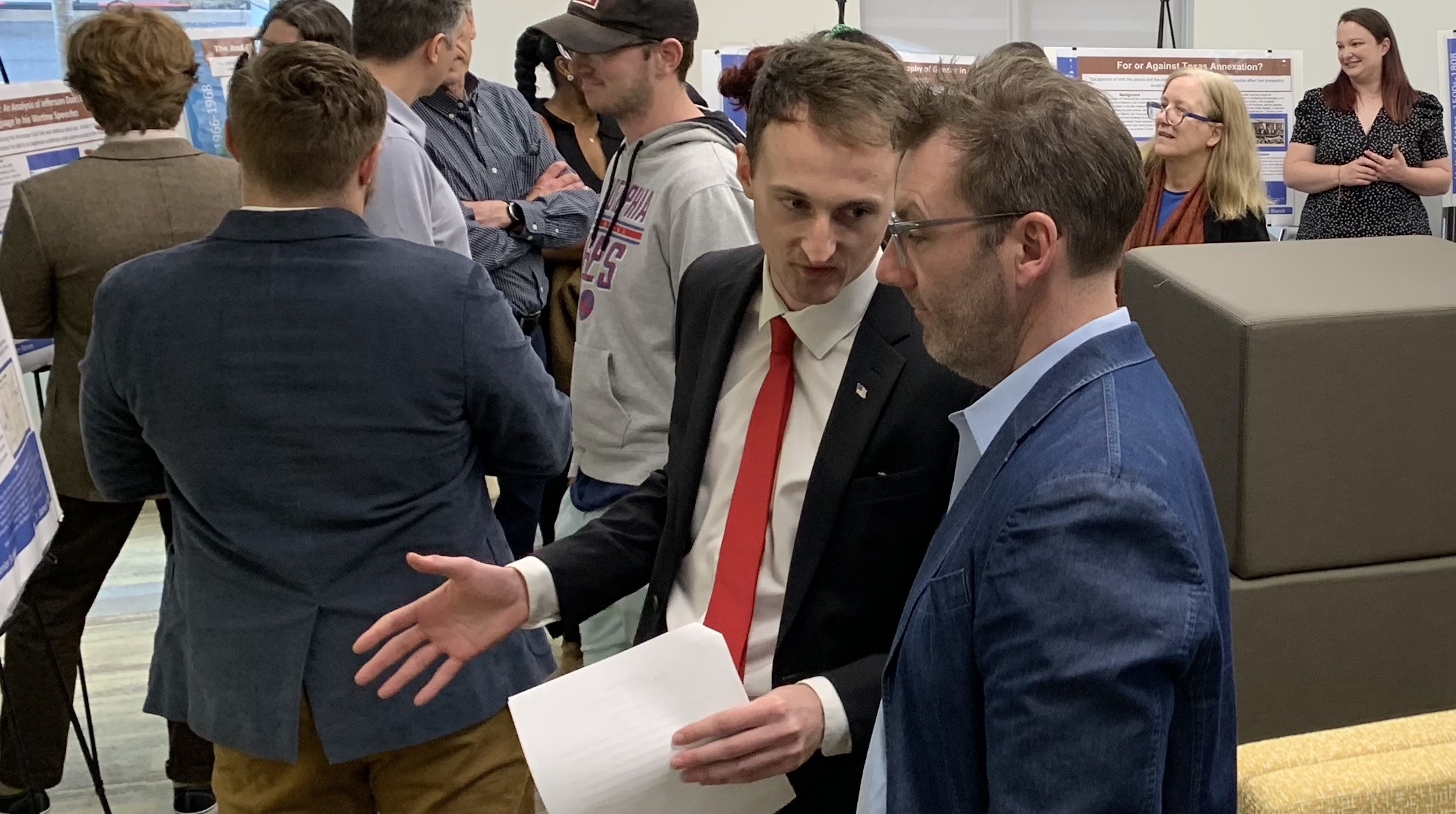 Professor Sexton delivered a fantastic address after the poster session.  Dr. Sexton's talk, entitled "The Monroe Doctrince at 200:  Past, Present, and Future," succeeded at both conveying the historic importance of this foreign policy statement over the past two centuries while also noting how the doctrine and its related ideas continue to impact international relations in the 21st century.  Thanks to Edward Wang for this great photograph.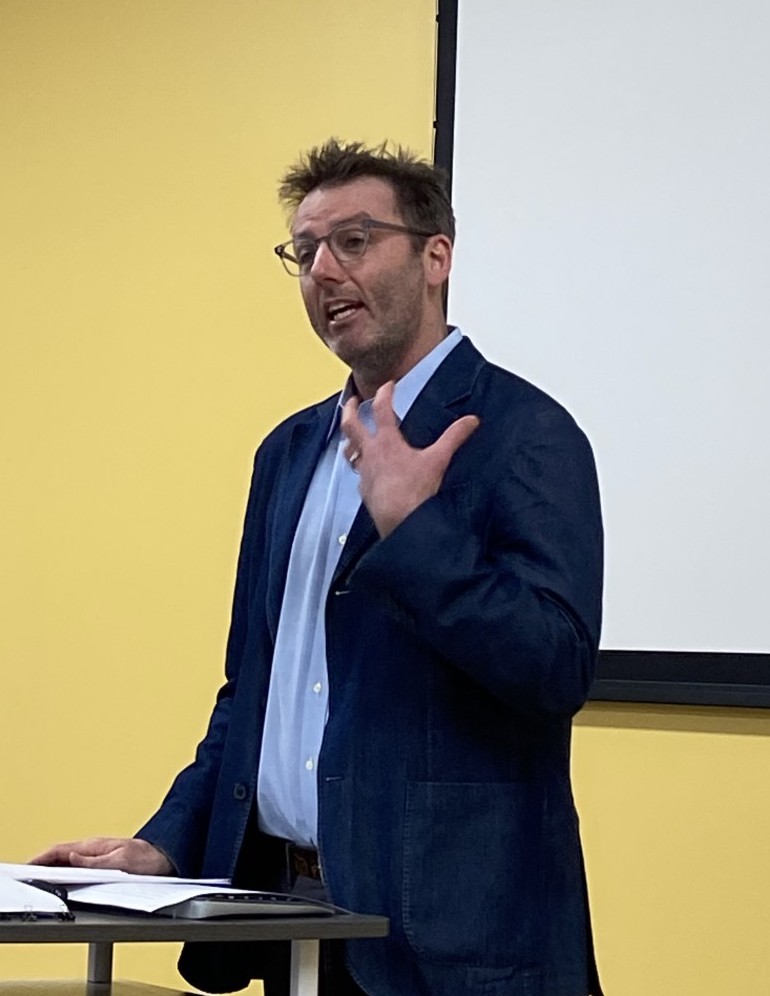 ---
Congratulations to Dr. Jessica Mack and all who helped plan and pull off on a very successful Douglass Day 2023!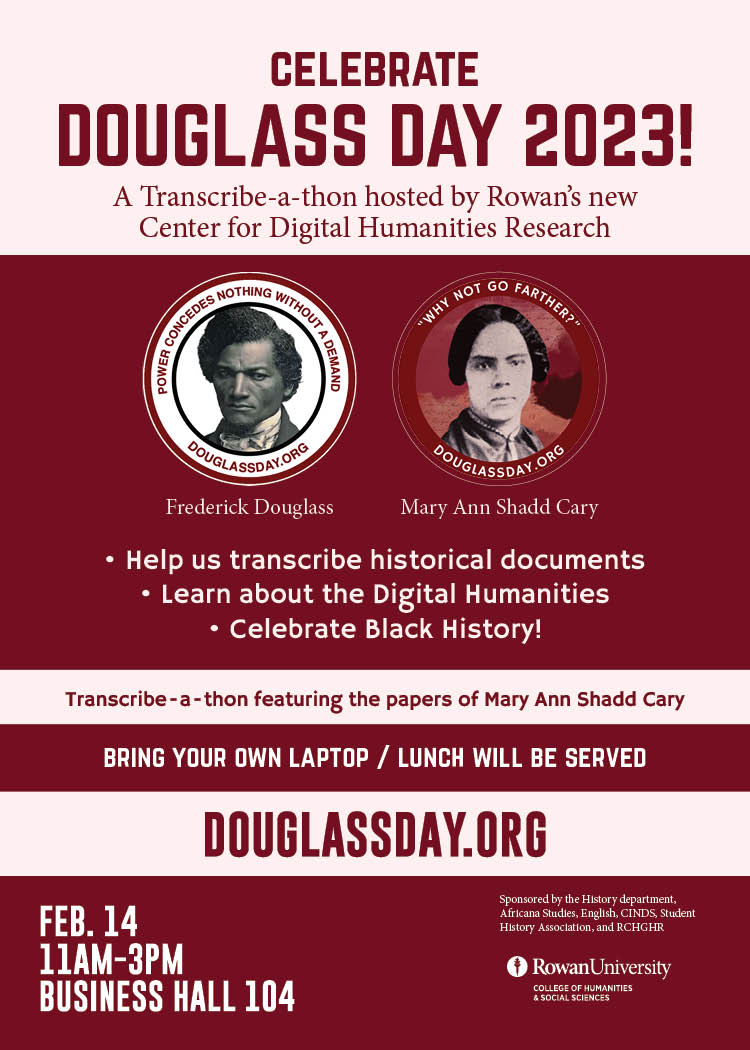 ---
Past Faculty and Student News
In 2022, Jessica Mack (PhD, Princeton) joined the Department as an Assistant Professor of History.  While a specialist in Latin American history, Dr. Mack's skill and training in digital history were highly coveted by the College and the Department.
In 2021, Dr. Joy Wiltenburg retired after a long and distinguished career at Rowan. The Board of Trustees bestowed upon her status as Professor Emerita.
In 2019, Debbie Sharnak (PhD, University of Wisonsin, Madison) joined the Department as an Assistant Professor of History and International Studies.  She specializes in the history of human rights, transnational networks, Latin America, and international relations. 
In 2018, Mikkel Dack (PhD, Calgary) joined the Department.  Dr. Dack is an historian of modern Europe, with a particular interest in twentieth-century Germany and the world wars. 
Associate Professor of History Corinne Blake won a national award for her advising of the International Studies Honors Society this past year! In addition, she was selected as the new Associate Dean of the College of Humanities and Social Sciences.  Congratulations to Dr. Blake on both counts!
In the summer of 2017, undergraduate Tyler Jiang appeared on The Point, a policy talk show on China Global Network Television. You can watch his interview here:  https://www.youtube.com/watch?list=PLt-M8o1W_GdSNhViAVk4Fq8IItW8PHBVf¶ms=OAFIAVgB&v=xGhOmwk6ZMo&mode=NORMAL&app=desktop
Undergraduate Zachary Baer recently published an article in the journal Sojourn entitled "School Segregation in the Post-Civil War Era: Burlington County, New Jersey, 1865 – 1915." https://blogs.stockton.edu/sjchc/
The 2017 season of The Americans TV series had a major plotline seemingly ripped from the pages of Jim Heinzen's 2016 monograph, The Art of the Bribe! http://yalebooks.yale.edu/book/9780300175257/art-bribe
In the Summer of 2017, Professor of History William Carrigan received support from the Asa Briggs Visiting Fellows Program to travelled to study and conduct research at the University of Sussex in Brighton, England.  More on the Asa Briggs program can be found here:  http://www.sussex.ac.uk/staff/research/sussexresearch/asabriggsvisitingfellowships
Archived Events from 2015

April 12, 2015: Antietam Battlefield Field Trip.
April 2015: Melissa Klapper will have a speaking engagement at the Highland Park Conservative Temple, NJ.
April 2015: Joy Wiltenburg will have an invited talk on Crime and Culture in Early Modern Germany, College of William and Mary, Williamsburg, VA.
May 19, 2015: Kelly Duke Bryant's new book, Colonial Schooling and Political Debate in Senegal, 1850s-1914, can be purchased beginning on May 19 from it's website or through Amazon.
July 31 - August 1, 2015: Rowan University's Second Annual Symposium on Medieval and Early Modern Studies. More information can be found here.

Events from 2014

Events from 2013