Clarissa Beyah
Clarissa Beyah
Resilience, perseverance and slam poetry helped put Clarissa Beyah, '99 on the path to professional success
Clarissa Beyah wanted to be a teacher. The universe enabled that dream and so much more.
She credits her studies in the humanities at Rowan University, including her life-changing introduction to slam poetry, for altering her trajectory.
To be sure, her 20-year journey from being a non-traditional 19-year-old married college student and mom to leading communication teams  for—in her words—"some of the largest corporations on the planet" was unlikely. But her success is not.
"When going through extremely difficult times, I just think there's nothing in my present or future that is harder than what I've overcome in my past. If you have a goal system—and support—you can do anything."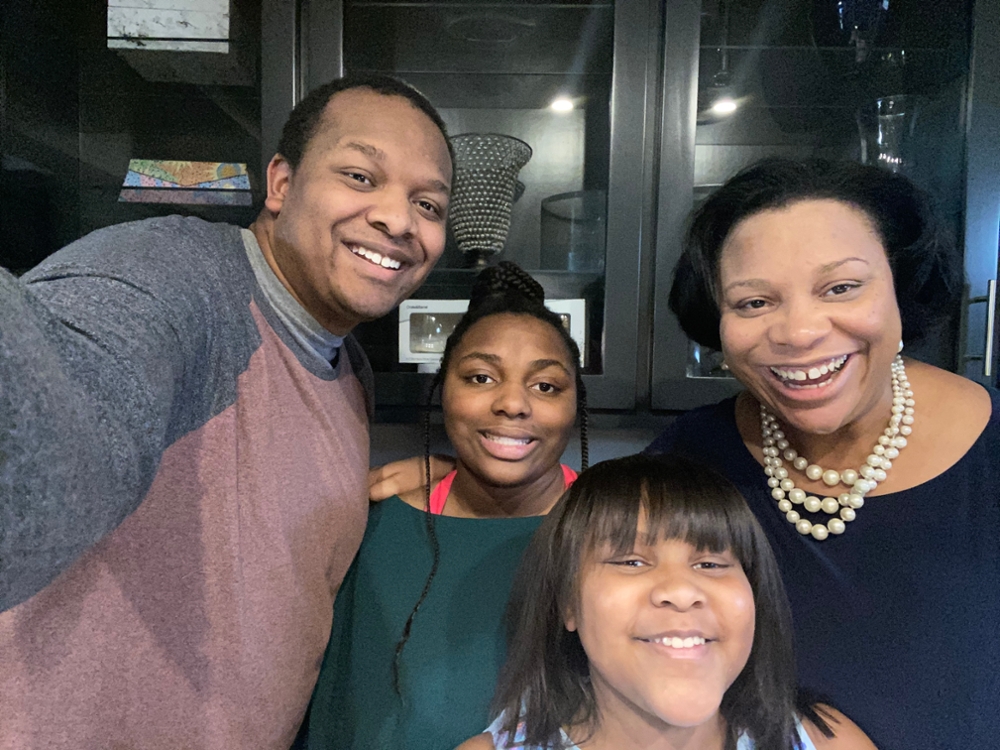 Currently the chief communications officer for Union Pacific Railroad and a professor of professional practice of journalism at the Annenberg School at University of Southern California, Beyah has led communication organizations within several Fortune 50 companies including  Exelon, GE, and Pfizer, among many others.
"I've had the privilege of leading teams on all but one continent, of teaching and mentoring young people from every walk of life—and of raising three amazing children--- in all of these roles, I get to be the teacher I dreamed of becoming."
Beyah was 19, married with a child on the way and working full-time with Independence Blue Cross, Blue Shield in Philadelphia when she was admitted to Rowan. No stranger to hard work, resilience and perseverance, to settle into and navigate family life she took a gap year. But not going to college, was never an option for her.
"I was a nontraditional student," Beyah reflected. "I got married right out of high school. My son Rafiq was literally one month old when I started my undergraduate experience at Rowan."
She entered Rowan with the intention of earning a dual degree in English and public relations, but a scheduling conflict forced her to take a slightly different path that ultimately led to her earning the English degree with a specialization in communications.
Raised in Philadelphia and South Jersey, Beyah moved to Glassboro after her family lost their home in a fire in Buena just before her junior year of high school. A graduate of Glassboro High School, she was familiar with the Rowan campus because she passed it every day on her way home from school.
In her admissions application, Beyah wrote an essay about the trauma of losing her family home and the emotional stress of loss and relocation. Although she was an honors student, she was surprised when the University admitted her with a full scholarship.
Despite her circumstances, Beyah was determined to have a normal college experience. Often with Rafiq, now 25 and a graduate of Syracuse University, bundled in a Snugli®  she made her way to campus to take afternoon and evening classes. She wrote for Avant, the student literary magazine and performed in the theatre department's production of "Macbeth" and other original works. She joined multicultural clubs and fondly remembers traveling to Philadelphia for the Million Woman March in 1997.
"I had such a passion and hunger for what Rowan had to offer, and in the professors, who were offering it," Beyah said. "The relentless support of the English and Communications departments was awesome. Whenever I had questions or issues they were there."
An American poetry class with Jim Haba introduced her to and fostered her love of slam poetry. "I'll never forget when one day he played audio of a real poet in live performance. I had never heard of slam poetry until it was introduced in class. It changed my life," Beyah recalled.
"Jim has been a mentor and such an influence in my life," Beyah said of Haba, whom she is still in contact with today.
Beyah's poems won her literary awards in competitions on and off campus. During a trip to Washington, DC she entered and won a slam poetry contest with a poem she wrote in class. After graduation, she became a performance artist, Connecticut Poetry Slam Team member and, started The Writer's Block (www.writersblockink.org), a nonprofit organization dedicated to cultivating and launching diverse young leaders using the arts. The organization continues to thrive.
"I'm a mom with three beautiful children, nonprofit founder, a chief communications officer, and a professor," added Beyah. "So, you don't have to pursue just one thing. You can be great and effective at living and breathing every talent you're given."
So, what's her advice to Rowan students? "It's easy to put barriers up for ourselves. Rowan has a cornucopia of opportunity if you use your peripheral vision to seize it. Seize every opportunity you can while you can. Don't take any of them for granted." 
photo: Beyah with her children Amaiya (10), Safiyah (14), Rafiq (25)
# # #