Faculty Spotlights
Faculty Spotlights
Second Annual Excellence in Service Awards
Rowan University's College of Humanities & Social Sciences honored two faculty members with its 2nd annual Excellence in Service Awards during its College Assembled in March.
As the University becomes increasingly research oriented, faculty are focusing on their research more than ever while continuing to engage intensively with their teaching responsibilities. At the same time, the university simply could not function without its faculty's commitment to service at all levels of administration.
The CHSS Excellence in Service Award recognizes faculty members' outstanding efforts to provide service to students, programs, departments, the college, and/or the university.
Awarded for the first-time last year, the CHSS Excellence in Service Award recognizes faculty for outstanding service to students, programs, departments, CHSS or the university.
Philosophy & religion studies professor Nathan Bauer received the 2019 Instructor/Lecturer Award and Stephen Hague, history professor and director of the Rowan Center for Holocaust and Genocide Studies was presented with the 2019 Assistant/Associate/Full Professor Award.
When Nathan Bauer arrived at Rowan, the Philosophy Club had not existed for years. So, he started a new club that began as a reading group with two students in his office. Through Bauer's efforts, the group expanded considerably, and now regularly has over two dozen students attending weekly club sessions—which is even more remarkable given the small size of the major.
However, Nathan's work in implementing the Rowan Core is his most impressive accomplishment. Bauer took a framework passed by the university Senate, and turned it into a general education program. But, Bauer emphasizes that the Rowan Core implementation has been a team effort involving the Director of Assessment, Jeff Bonfield and members of the Rowan Core Committee, who all put in a lot of hours reviewing course proposals and discussing policy issues. Under Bauer's leadership, the course proposal process was re-designed, and a new assessment model for Rowan Core classes was developed.
"It is a tremendous honor receiving the CHSS Excellence in Service award. For the last two years, I've worked very hard on implementing our new general education model, Rowan Core, and it feels great to have this work acknowledged," Bauer said. "One of the things I love about our college is that we recognize the value of university service. Beyond the award itself, many members of the college have individually thanked me for my work on Rowan Core, and that means a lot to me."
Bauer also served on the three-member organizing committee for the International Society for Philosophy of Science in Practice Conference at Rowan.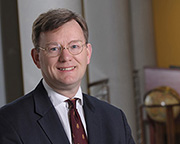 Stephen Hague's service activities are equally formidable. An active member of the History Department, Hague also served as coordinator of the Liberal Studies: Humanities and Social Sciences program for two years, a position that required the supervision of hundreds of students in many different sequences. He is most well-known, however, for his efforts to establish and develop Rowan's Center for Holocaust and Genocide Studies. 
In 2015, Stephen worked with the dean and other faculty to write a white paper that established the Center and initially served as co-coordinator. In that position, he organized and chaired the center's inaugural event. He now serves as director of the Center for Holocaust and Genocide Studies. Each semester, the center offers a wide-ranging and dynamic program of activities--lectures, workshops, book clubs, film discussions, videos, and presentations—to an audience of about 1000 people from Rowan and the surrounding areas, educating students, faculty, staff, as well as the general public. Hague has played an impressive leadership role in building the Center for Holocaust and Genocide Studies.
A junior faculty member who has worked at Rowan for just over 5 years, Hague's dedication, industriousness and ingenuity have already made him a widely recognized figure in our community.
"It is both a wonderful surprise and a great honor to receive the CHSS Service Award," said Hague.  ​'Being a part of the intellectual community at Rowan is one of the special benefits of being a faculty member and service is one of the best ways to work with great people and be actively engaged in our learning community. ​I very much appreciate the support of the college and the especially the many colleagues in History, the Rowan Center for Holocaust and Genocide Studies, and beyond who do so much to enable my work."