Programs
Programs
Programs
As a community, we provide an open and accessible forum for anyone interested in the goings-on of the wider world. We seek to bring together people with expertise in various fields to comment on the past, present, and future of engaging global issues. Our events are open to all.
In the past we have held lectures by notable authors like Doris Kearns Goodwin (author of Team of Rivals, The Bully Pulpit), Julian Zelizer (Arsenal of Democracy,  CNN commentator), and astronaut Stanley G. Love. We offer regular invited talks, fellowship programs, conduct research seminars, sponsor publications, and provide access to still-uncatalogued Glassboro Summit documents. Check below for info on future events, or email us!
2/6: 5 PM, Hollybush Mansion:
The Hollybush Institute hosts Duncan White, author of Cold Warriors: Writers Who Waged the Literary Cold War.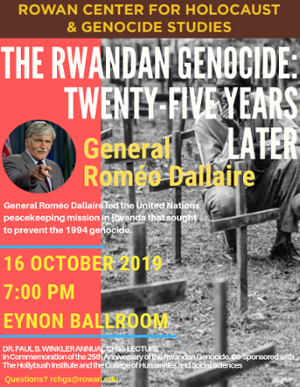 10/16: 7 PM, Eynon Ballroom:
Join The Hollybush Institute as it hosts a lecture by retired General Romeo Dellaire, who led the UN peacekeeping mission in Rwanda in 1994. This event is co-sponsored by the Rowan Center for Holocaust and Genocide Studies.
4/4: 7 PM, Eynon Ballroom:
Join the Hollybush Institute in hosting NASA astronaut Stan Love for a commemoration of the 50th anniversary of the 1969 moon landing.