Events
Events
Events
On March 9th, 2022 Prof. Timothy Snyder of Yale University gave a talk on, "Ukraine and On Tyranny: Reflections on the Russian-Ukraine War and Authoritarianism."
Here is the talk:
---
Russia and the War in Ukraine: Rowan University Faculty Discuss Causes and Consequences
FALL 2021
September
Wednesday 22 - 3:30 PM Virtual (info coming soon)
Hollybush Author Series, Dr. Alison Mountz (Professor of Geography and Canada Research Chair in Global Migration, Wilfrid Laurier University)
The Death of Asylum: Hidden Geographies of the Enforcement Archipelago 
Tuesday 28 - 11:00-12:15, Webex
Hollybush Author Series 
Kate Brown, "The Great Chernobyl Acceleration:Environment and Health in the Nuclear Age"
October
Dr. Sara Vigil, Geopolitical Ecologies of Environmental Change, Land Grabbing and Migration
Wednesday 20 - 9:30 AM, Zoom
Hollybush Author Series
Dr. Sara Vigil (Stockholm Environmental Institute, in Bangkok, Thailand)
Amanda Demmer, After Saigon's Fall
Wednesday 27 - 2PM, Zoom
Hollybush Author Series
Amanda Demmer, 
November
Dr. Jacob Blanc, "Before the Flood: The Itaipu Dam and the Visibility of Rural Brazil"
Thursday 11 - 11:30am, Zoom 
Hollybush Author Series
Dr. Jacob Blanc, University of Edinburgh
Sean R. Roberts, "War on the Uyghurs: China's Internal Campaign Against A Muslim Minority"
Wednesday 17 - 6:30-7:45, Zoom
Hollybush Author Series 
Dr. Sean R. Roberts, 
---
Fall 2021
Spring 2021
Please join us for a virtual conversation with John Barry, historian and author of several best-selling books, including The Great Influenza: The Story of the Deadliest Pandemic in History. Professor Barry teaches at Tulane University's School of Public Health and Tropical Medicine and his commentary on the current pandemic has appeared in the New York Times and elsewhere.
Pandemics Then and Now, What We Know, What We Need to Learn, with John Barry
Thursday, February 25, 5 pm
Link to join or preregister: https://rowan.webex.com/rowan/onstage/g.php?MTID=ea64e88224c93c0eddcafe99f3aa4f231
---
---
Hollybush Author Series. Francine Hirsch discusses her new book Soviet Judgment at Nuremberg. October 18, 2020.
---
As a community, we provide an open and accessible forum for anyone interested in the goings-on of the wider world. We seek to bring together people with expertise in various fields to comment on the past, present, and future of engaging global issues. Our events are open to all.
In the past we have held lectures by notable authors like Doris Kearns Goodwin (author of Team of Rivals, The Bully Pulpit), Julian Zelizer (Arsenal of Democracy,  CNN commentator), and astronaut Stanley G. Love. We offer regular invited talks, fellowship programs, conduct research seminars, sponsor publications, and provide access to still-uncatalogued Glassboro Summit documents. Check below for info on future events, or email us!
2/6/20: 5 PM, Hollybush Mansion:
The Hollybush Institute hosts Duncan White, author of Cold Warriors: Writers Who Waged the Literary Cold War.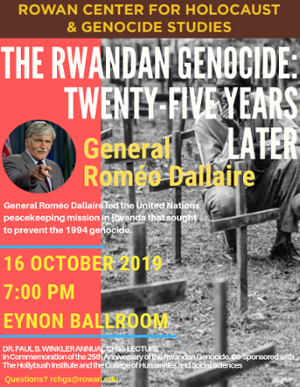 10/16/19: 7 PM, Eynon Ballroom:
Join The Hollybush Institute as it hosts a lecture by retired General Romeo Dellaire, who led the UN peacekeeping mission in Rwanda in 1994. This event is co-sponsored by the Rowan Center for Holocaust and Genocide Studies.
4/4/19 7 PM, Eynon Ballroom:
Join the Hollybush Institute in hosting NASA astronaut Stan Love for a commemoration of the 50th anniversary of the 1969 moon landing.