Africana Studies and Global Black Studies
Africana Studies and Global Black Studies
Africana Studies offers a unique interdisciplinary approach to global black studies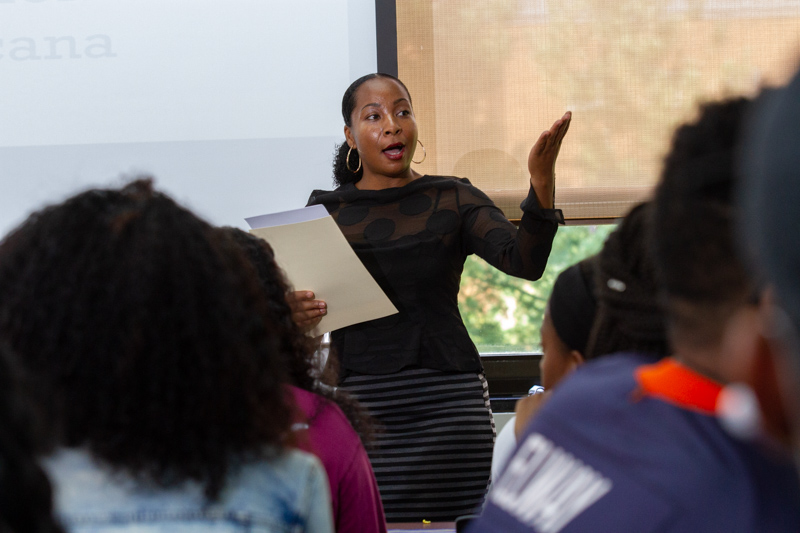 Earlier this semester, the Africana Studies program held a Welcome Back reception in the student center called "A Taste of Africana Studies" that allowed students to learn more about the program.
Africana Studies coordinator, Professor Chanelle Rose moderated the event, which went into detail about the program's various majors and minors that encompass courses highlighting Africa, the Caribbean and Latin America. Students from the major participated in the event by speaking about their experiences and what they've gained from the Africana Studies program.  
Rowan junior and history major, Jasmine Johnson shared her experience participating in the International Model African Union (AU) course and conference that takes place each February in Washington, D.C. During the conference, students have the opportunity to gain valuable experience in diplomatic relations and international affairs while representing member states of the African Union. The past several years, Rowan students have represented the African nation of Eritrea, which they will represent again in 2020.
"I've gone to the conference for the past two years. Last year I went through an internship with the Dean's office," Johnson said. "There were colleges from across Africa, Canada and from the U.S. Mainly you're in committees all day. Most people mingle during breaks to talk to other participants about their resolution because you want people to vote for your resolution. I would encourage students to participate because we debate a lot and that was fun and it provides an opportunity to network with students from all over."
Professor Rose shared that one of the questions that is often asked by parents is 'what can you do with a major in Afticana Studies?' She explained, "It is an easy major to tie with other majors or minor, international studies, law & justice, history, biology, communications and education for example. Many of our students are working in politics, education and in urban environments."
"I decided to start a nonprofit organization called Quist Union Health Initiative that focuses on health in Africa and health care policies in Africa," said Rowan alumni and dual Africana Studies and biology graduate Colletta Kornu Ledlum in a video shown at the event. Ledlum's non-profit addresses the availability, affordability, and consistency in medications and treatment for citizens in Liberia.
In addition, student organizations were in attendance at the reception providing information to those hoping to engage in Black and Latinx cultural opportunities on campus.
Traditional Caribbean food such as oxtails, rice and peas and plantains were served as lunch options along with a variety of sandwiches and wraps.
The event was co-sponsored by the Multicultural and Inclusion Programs, Achieving Success through Collaboration, Engagement, And Determination (ASCEND) and the Center for Interdisciplinary Studies. 
"I hope all CHSS students will recognize and value the importance of creating diverse spaces for them to socialize, learn, and educate each other. I also hope that CHSS students especially students of color will feel that they have institutional support to help them navigate the challenges some may face at a predominantly white institution like Rowan," Rose noted.
Alexandria Brooks is a rising senior journalism major and CHSS public relations intern, who is a regular contributor of content and articles about CHSS.